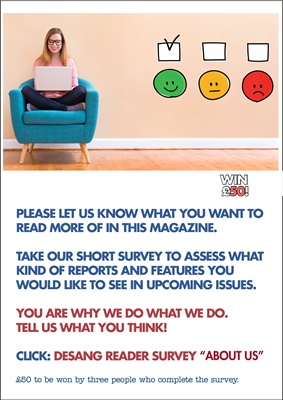 PLEASE LET US KNOW WHAT YOU WANT TO
READ MORE OF IN THIS MAGAZINE.
TAKE OUR SHORT SURVEY TO ASSESS WHAT
KIND OF REPORTS AND FEATURES YOU
WOULD LIKE TO SEE IN UPCOMING ISSUES.
YOU ARE WHY WE DO WHAT WE DO.
TELL US WHAT YOU THINK!
CLICK: DESANG READER SURVEY 2019
£50 to be win by x3 people who complete the survey.
WIN
£50!
WIN
£50!