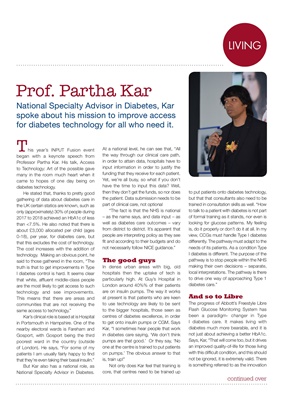 KITLIVING
continued over
Prof. Partha Kar
National Specialty Advisor in Diabetes, Kar
spoke about his mission to improve access
for diabetes technology for all who need it.
This year's Input Fusion event began
with a keynote speech from Professor
Partha Kar. His talk, Access to Technology:
Art of the possible gave many in the room
much heart when it came to hopes of one
day being on diabetes technology.
He stated that, thanks to pretty good
gathering of data about diabetes care in
the UK certain statics are known, such as
only (approximately) 30% of people during
2017 to 2018 achieved an HbA1c of less
than <7.5%. He also noted that there is
about £3,000 allocated per child (ages
0-18), per year, for diabetes care, but
that this excludes the cost of technology.
The cost increases with the addition of
technology. Making an obvious point, he
said to those gathered in the room, "The
truth is that to get improvements in Type
I diabetes control is hard. It seems clear
that white, affluent middle-class people
are the most likely to get access to such
technology and see improvements.
This means that there are areas and
communities that are not receiving the
same access to technology."
Kar's clinical role is based at is Hospital
in Portsmouth in Hampshire. One of the
nearby electoral wards is Fareham and
Gosport, with Gosport being the third
poorest ward in the country (outside
of London). He says, "For some of my
patients I am usually fairly happy to find
that they're even taking their basal insulin."
But Kar also has a national role, as
National Specialty Advisor in Diabetes.
At a national level, he can see that, "All
the way through our clinical care path,
in order to attain data, hospitals have to
input information in order to justify the
funding that they receive for each patient.
Yet, we're all busy, so what if you don't
have the time to input this data? Well,
then they don't get the funds, so nor does
the patient. Data submission needs to be
part of clinical care, not optional
"The fact is that the NHS is national
- as the name says, and data input - as
well as diabetes care outcomes - vary
from district to district. It's apparent that
people interpreting policy as they see fit
and according to their budgets and do
not necessarily follow NICE guidance."
The good guys
In dense urban areas with big, old
hospitals then the uptake of tech is
particularly high. At Guy's Hospital in
London around 40%% of their patients
are on insulin pumps. The way it works
at present is that patients who are keen
to use technology are likely to be sent
to the bigger hospitals, those seen as
centres of diabetes excellence, in order
to get onto insulin pumps or CGM. Says
Kar, "I sometimes hear people that work
in diabetes care saying, 'We don't think
pumps are that good.' Or they say, 'No
one at the centre is trained to put patients
on pumps.' The obvious answer to that
is, train up!"
Not only does Kar feel that training is
core, that centres need to be trained up
to put patients onto diabetes technology,
but that that consultants also need to be
trained in consultation skills as well. "How
to talk to a patient with diabetes is not part
of formal training as it stands, nor even is
looking for glucose patterns. My feeling
is, do it properly or don't do it at all. In my
view, CCGs must handle Type I diabetes
differently. The pathway must adapt to the
needs of its patients. As a condition Type
I diabetes is different. The purpose of
the pathway is to stop people within the
NHS making their own decisions, making
separate, local interpretations. It is to drive
one way of approaching Type 1 diabetes
care."
And so to Libre
The progress of Abbott's Freestyle Libre
Flash Glucose Monitoring System has
been a paradigm- changer in Type
I diabetes care. It makes living with
diabetes much more bearable, and it is
not just about achieving a better HbA1c.
Says, Kar, "That will come too, but it drives
an improved quality-of-life for those living
with this difficult condition, and this should
not be ignored, it is extremely valid. There
is something referred to as the innovation
curve when it comes to the launch of a