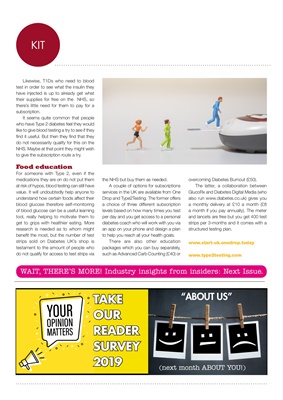 KIT
TAKE
OUR
READER
SURVEY
2019
Likewise, T1Ds who need to blood
test in order to see what the insulin they
have injected is up to already get what
their supplies for free on the NHS, so
there's little need for them to pay for a
subscription.
It seems quite common that people
who have Type 2 diabetes feel they would
like to give blood testing a try to see if they
find it useful. But then they find that they
do not necessarily qualify for this on the
NHS. Maybe at that point they might wish
to give the subscription route a try.
Food education
For someone with Type 2, even if the
medications they are on do not put them
at risk of hypos, blood testing can still have
value. It will undoubtedly help anyone to
understand how certain foods affect their
blood glucose therefore self-monitoring
of blood glucose can be a useful learning
tool, really helping to motivate them to
get to grips with healthier eating. More
research is needed as to whom might
benefit the most, but the number of test
strips sold on Diabetes UK's shop is
testament to the amount of people who
do not qualify for access to test strips via
the NHS but buy them as needed.
A couple of options for subscriptions
services in the UK are available from One
Drop and Type2Testing. The former offers
a choice of three different subscription
levels based on how many times you test
per day and you get access to a personal
diabetes coach who will work with you via
an app on your phone and design a plan
to help you reach all your health goals.
There are also other education
packages which you can buy separately,
such as Advanced Carb Counting (£40) or
overcoming Diabetes Burnout (£50).
The latter, a collaboration between
GlucoRx and Diabetes Digital Media (who
also run www.diabetes.co.uk) gives you
a monthly delivery at £10 a month (£8
a month if you pay annually). The meter
and lancets are free but you get 400 test
strips per 3-months and it comes with a
structured testing plan.
WAIT, THERE'S MORE! Industry insights from insiders: Next Issue.