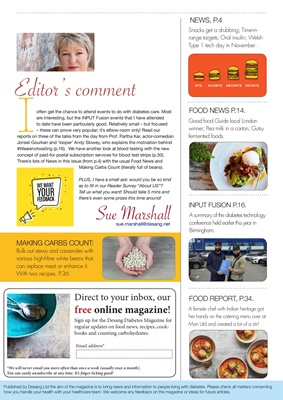 Published by Desang Ltd the aim of the magazine is to bring news and information to people living with diabetes. Please check all matters concerning
how you handle your health with your healthcare team. We welcome any feedback on the magazine or ideas for future articles..
Sue Marshall
Autum's nearly with us, tEditor's comment
T
INPUT: FUSION P.XX.
Dieti. P.xx.
MAKING CARBS COUNT:
NEWS, P.4
Tesco raises millions for charity
with danceathon. New Actiste tool
both delivers insulin and does tests.
New Rapid Cap can reduce risk
of accidental pricks. Plates that aid
healthy portions. Nasal Glucogon.
FOOD NEWS P.XX
A female chef with Indian heritage gets
her hands on the catering menu over at
Man Utd and created a bit of a stir!
FOOD REPORT, P.XX