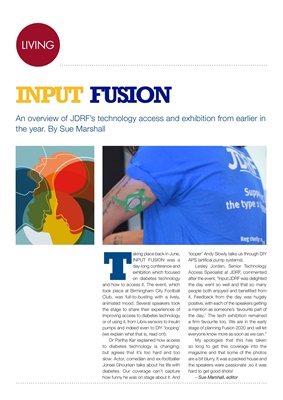 LIVINGLIVING
T
aking place back in June,
INPUT: FUSION was a
day-long conference and
exhibition which focused
on diabetes technology
and how to access it. The event, which
took place at Birmingham City Football
Club, was full-to-busting with a lively,
animated mood. Several speakers took
the stage to share their experiences of
improving access to diabetes technology
or of using it, from Libre sensors to insulin
pumps and indeed even to DIY 'looping'
(we explain what that is, read on!).
Dr Partha Kar explained how access
to diabetes technology is changing,
but agrees that it's too hard and too
slow. Actor, comedian and ex-footballer
Jonsel Ghourkan talks about his life with
diabetes. Our coverage can't capture
how funny he was on stage about it. And
INPUT: FUSION
An overview of JDRF's technology access and exhibition from earlier in
the year. By Sue Marshall
'looper' Andy Slowly talks us through DIY
APS (artifical pump systems).
Lesley Jordan, Senior Technology
Access Specialist at JDRF, commented
after the event, "Input:JDRF was delighted
the day went so well and that so many
people both enjoyed and benefited from
it. Feedback from the day was hugely
positive, with each of the speakers getting
a mention as someone's 'favourite part of
the day.' The tech exhibition remained
a firm favourite too. We are in the early
stage of planning Fusion 2020 and will let
everyone know more as soon as we can."
My apologies that this has taken
so long to get this coverage into the
magazine and that some of the photos
are a bit blurry. It was a packed house and
the speakers were passionate ,so it was
hard to get good shots!
- Sue Marshall, editor