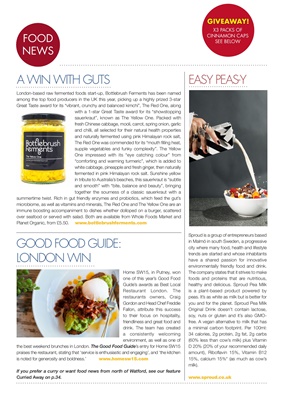 LIVINGLIVING
FOOD
NEWS
A WIN WITH GUTS
London-based raw fermented foods start-up, Bottlebrush Ferments has been named
among the top food producers in the UK this year, picking up a highly prized 3-star
Great Taste award for its "vibrant, crunchy and balanced kimchi", The Red One, along
with a 1-star Great Taste award for its "showstopping
sauerkraut", known as The Yellow One. Packed with
fresh Chinese cabbage, mooli, carrot, spring onion, garlic
and chilli, all selected for their natural health properties
and naturally fermented using pink Himalayan rock salt,
The Red One was commended for its "mouth filling heat,
supple vegetables and funky complexity". The Yellow
One impressed with its "eye catching colour" from
"comforting and warming turmeric", which is added to
white cabbage, pineapple and fresh ginger, then naturally
fermented in pink Himalayan rock salt. Sunshine yellow
in tribute to Australia's beaches, this sauerkraut is "subtle
and smooth" with "bite, balance and beauty", bringing
together the sourness of a classic sauerkraut with a
summertime twist. Rich in gut friendly enzymes and probiotics, which feed the gut's
microbiome, as well as vitamins and minerals, The Red One and The Yellow One are an
immune boosting accompaniment to dishes whether dolloped on a burger, scattered
over seafood or served with salad. Both are available from Whole Foods Market and
Planet Organic, from £5.50. www.bottlebrushferments.com
GOOD FOOD GUIDE:
LONDON WIN
Home SW15, in Putney, won
one of this year's Good Food
Guide's awards as Best Local
Restaurant London. The
restaurants owners, Craig
Gordon and Head Chef Freddie
Fallon, attribute this success
to their focus on hospitality,
friendliness and great food and
drink. The team has created
a consistently welcoming
environment, as well as one of
the best weekend brunches in London. The Good Food Guide's entry for Home SW15
praises the restaurant, stating that 'service is enthusiastic and engaging', and 'the kitchen
is noted for generosity and boldness.' www.homesw15.com
If you prefer a curry or want food news from north of Watford, see our feature
Curried Away on p.32.
EASY PEAS-Y
Sproud is a group of entrepreneurs based
in Malmö in south Sweden, a progressive
city where many food, health and lifestyle
trends are started and whose inhabitants
have a shared passion for innovative
environmentally friendly food and drink.
The company states that it strives to make
foods and proteins that are nutritious,
healthy and delicious. Sproud Pea Milk is
a plant-based product powered by peas.
It's as white as milk but a is better for
you and for the planet. Sproud Pea Milk
Original Drink doesn't contain lactose,
soy, nuts or gluten and it's also GMOfree.
A vegan alternative to milk that has
a minimal carbon footprint. Per 100ml:
34 calories, 2g protein, 2g fat, 2g carbs
(60% less than cow's milk) plus Vitamin
D 20% (20% of your recommended daily
amount), Riboflavin 15%, Vitamin B12
15%, calcium 15%* (as much as cow's
milk).
X3 PACKS OF
CINNAMON CAPS
SEE BELOW
GIVEAWAY!