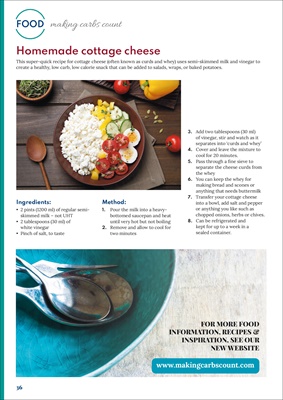 36
FOOD
FOR MORE FOOD
INFORMATION, RECIPES &
INSPIRATION, SEE OUR
NEW WEBSITE
making carbs count
Homemade cottage cheese
This super-quick recipe for cottage cheese (often known as curds and whey) uses semi-skimmed milk and vinegar to
create a healthy, low carb, low calorie snack that can be added to salads, wraps, or baked potatoes.
Ingredients:
• 2 pints (1200 ml) of regular semiskimmed
milk - not UHT
• 2 tablespoons (30 ml) of
white vinegar
• Pinch of salt, to taste
Method:
1. Pour the milk into a heavybottomed
saucepan and heat
until very hot but not boiling
2. Remove and allow to cool for
two minutes
3. Add two tablespoons (30 ml)
of vinegar, stir and watch as it
separates into 'curds and whey'
4. Cover and leave the mixture to
cool for 20 minutes.
5. Pass through a fine sieve to
separate the cheese curds from
the whey
6. You can keep the whey for
making bread and scones or
anything that needs buttermilk
7. Transfer your cottage cheese
into a bowl, add salt and pepper
or anything you like such as
chopped onions, herbs or chives.
8. Can be refrigerated and
kept for up to a week in a
sealed container.