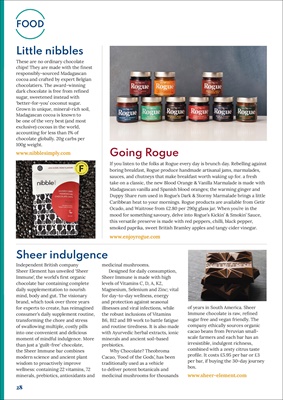 28
FOOD
Little nibbles
These are no ordinary chocolate
chips! They are made with the finest
responsibly-sourced Madagascan
cocoa and crafted by expert Belgian
chocolatiers. The award-winning
dark chocolate is free from refined
sugar, sweetened instead with
'better-for-you' coconut sugar.
Grown in unique, mineral-rich soil,
Madagascan cocoa is known to
be one of the very best (and most
exclusive) cocoas in the world,
accounting for less than 1% of
chocolate globally. 20g carbs per
100g weight.
www.nibblesimply.com Going Rogue
If you listen to the folks at Rogue every day is brunch day. Rebelling against
boring breakfast, Rogue produce handmade artisanal jams, marmalades,
sauces, and chutneys that make breakfast worth waking up for. a fresh
take on a classic, the new Blood Orange & Vanilla Marmalade is made with
Madagascan vanilla and Spanish blood oranges; the warming ginger and
Duppy Share rum used in Rogue's Dark & Stormy Marmalade brings a little
Caribbean heat to your mornings. Rogue products are available from Getir
Ocado, and Waitrose from £2.80 per 290g glass jar. When you're in the
mood for something savoury, delve into Rogue's Kickin' & Smokin' Sauce,
this versatile preserve is made with red peppers, chilli, black pepper,
smoked paprika, sweet British Bramley apples and tangy cider vinegar.
Sheer indulgence
Independent British company
Sheer Element has unveiled 'Sheer
Immune', the world's first organic
chocolate bar containing complete
daily supplementation to nourish
mind, body and gut. The visionary
brand, which took over three years
for experts to create, has reimagined
consumer's daily supplement routine,
transforming the chore and stress
of swallowing multiple, costly pills
into one convenient and delicious
moment of mindful indulgence. More
than just a 'guilt-free' chocolate,
the Sheer Immune bar combines
modern science and ancient plant
wisdom to proactively improve
wellness: containing 22 vitamins, 72
minerals, prebiotics, antioxidants and
medicinal mushrooms.
Designed for daily consumption,
Sheer Immune is made with high
levels of Vitamins C, D, A, K2,
Magnesium, Selenium and Zinc; vital
for day-to-day wellness, energy
and protection against seasonal
illnesses and viral infections, while
the robust inclusions of Vitamins
B6, B12 and B9 work to battle fatigue
and routine tiredness. It is also made
with Ayurvedic herbal extracts, ionic
minerals and ancient soil-based
prebiotics.
Why Chocolate? Theobroma
Cacao, 'Food of the Gods', has been
traditionally used as a vehicle
to deliver potent botanicals and
medicinal mushrooms for thousands
of years in South America. Sheer
Immune chocolate is raw, refined
sugar free and vegan friendly. The
company ethically sources organic
cacao beans from Peruvian smallscale
farmers and each bar has an
irresistible, indulgent richness,
combined with a zesty citrus taste
profile. It costs £5.95 per bar or £3
per bar, if buying the 30-day journey
box.