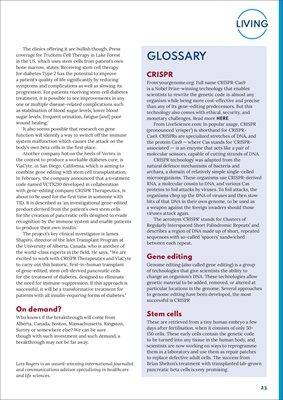 23
LIVING
The clinics offering it are bullish though. Press
coverage for TruStem Cell Therapy in Lake Forest
in the US, which uses stem cells from patient's own
bone marrow, states 'Receiving stem cell therapy
for diabetes Type 2 has the potential to improve
a patient's quality of life significantly by reducing
symptoms and complications as well as slowing its
progression. For patients receiving stem cell diabetes
treatment, it is possible to see improvements in any
one or multiple disease-related complications such
as stabilisation of blood sugar levels, lower blood
sugar levels, frequent urination, fatigue [and] poor
wound healing.'
It also seems possible that research on gene
function will identify a way to switch off the immune
system malfunction which causes the attack on the
body's own beta cells in the first place.
Another company hot on the heels of Vertex in
the contest to produce a workable diabetes cure, is
ViaCyte, in San Diego, California, which is aiming to
combine gene editing with stem cell transplantation.
In February, the company announced that a treatment
code named VCTX210 developed in collaboration
with gene-editing company CRISPR Therapeutics, is
about to be used for the first time in someone with
T1D. It is described as 'an investigational gene-edited
product derived from the patient's own stem cells
for the creation of pancreatic cells designed to evade
recognition by the immune system and enable patients
to produce their own insulin.'
The project's key clinical investigator is James
Shapiro, director of the Islet Transplant Program at
the University of Alberta, Canada, who is another of
the world-class experts in the field. He says, "We are
excited to work with CRISPR Therapeutics and ViaCyte
to carry out this historic, first-in-human transplant
of gene-edited, stem cell-derived pancreatic cells
for the treatment of diabetes, designed to eliminate
the need for immune-suppression. If this approach is
successful, it will be a transformative treatment for
patients with all insulin-requiring forms of diabetes."
On demand?
Who knows if the breakthrough will come from
Alberta, Canada, Boston, Massachussetts, Kingston,
Surrey or somewhere else? We can be sure
though with such investment and such demand, a
breakthrough may not be far away.
GLOSSARY
CRISPR
From yourgenome.org: Full name CRISPR-Cas9
is a Nobel Prize-winning technology that enables
scientists to rewrite the genetic code in almost any
organism while being more cost-effective and precise
than any of its gene-editing predecessors. But this
technology also comes with ethical, security, and
monetary challenges. Read more HERE.
From LiveScience.com: In popular usage, CRISPR
(pronounced 'crisper') is shorthand for CRISPRCas9.
CRISPRs are specialized stretches of DNA, and
the protein Cas9 - where Cas stands for 'CRISPRassociated'
- is an enzyme that acts like a pair of
molecular scissors, capable of cutting strands of DNA.
CRISPR technology was adapted from the
natural defence mechanisms of bacteria and
archaea, a domain of relatively simple single-celled
microorganisms. These organisms use CRISPR-derived
RNA, a molecular cousin to DNA, and various Cas
proteins to foil attacks by viruses. To foil attacks, the
organisms chop up the DNA of viruses and then stow
bits of that DNA in their own genome, to be used as
a weapon against the foreign invaders should those
viruses attack again.
The acronym 'CRISPR' stands for Clusters of
Regularly Interspaced Short Palindromic Repeats' and
describes a region of DNA made up of short, repeated
sequences with so-called 'spacers' sandwiched
between each repeat.
Gene editing
Genome editing (also called gene editing) is a group
of technologies that give scientists the ability to
change an organism's DNA. These technologies allow
genetic material to be added, removed, or altered at
particular locations in the genome. Several approaches
to genome editing have been developed, the most
successful is CRISPR
Stem cells
These are retrieved from a tiny human embryo a few
days after fertilisation, when it consists of only 50-
150 cells. These early cells contain the genetic code
to be turned into any tissue in the human body, and
scientists are now working on ways to reprogramme
them in a laboratory and use them as repair patches
to replace defective adult cells. The success from
Brian Shelton's treatment with transplanted lab-grown
pancreatic beta cells is very promising.
Lois Rogers is an award-winning international journalist
and communications advisor specialising in healthcare
and life sciences.