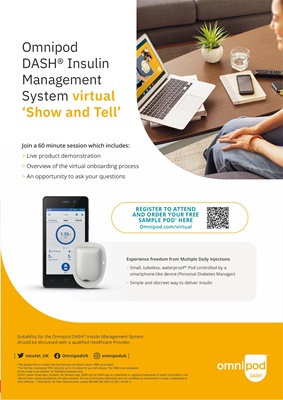 †The Sample Pod is a needle-free Pod that does not deliver insulin. PDM not included.
*The Pod has a waterproof IP28 rating for up to 7.6 metres for up to 60 minutes. The PDM is not waterproof.
Screen image is an example, for illustrative purposes only.
©2021 Insulet Corporation. Omnipod, the Omnipod logo, DASH and the DASH logo are trademarks or registered trademarks of Insulet Corporation in the
USA and other various jurisdictions. All rights reserved. The use of third party trademarks does not constitute an endorsement or imply a relationship or
other affiliation. 1 King Street, 5th Floor, Hammersmith, London W6 9HR. INS-ODS-10-2021-00169 v1
Omnipod
DASH® Insulin
Management
System virtual
'Show and Tell'
Join a 60 minute session which includes:
> Live product demonstration
> Overview of the virtual onboarding process
> An opportunity to ask your questions
Suitability for the Omnipod DASH® Insulin Management System
should be discussed with a qualified Healthcare Provider.
Experience freedom from Multiple Daily Injections
> Small, tubeless, waterproof* Pod controlled by a
smartphone-like device (Personal Diabetes Manager)
> Simple and discreet way to deliver insulin
REGISTER TO ATTEND
AND ORDER YOUR FREE
SAMPLE POD† HERE
Omnipod.com/virtual
Insulet_UK OmnipodUK omnipoduk
[ ]