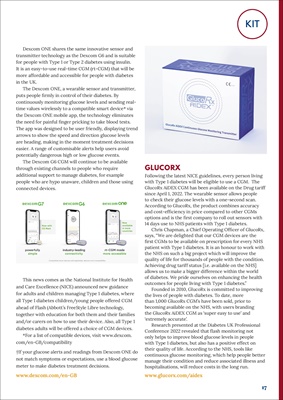 17
KIT
Dexcom ONE shares the same innovative sensor and
transmitter technology as the Dexcom G6 and is suitable
for people with Type 1 or Type 2 diabetes using insulin.
It is an easy-to-use real-time CGM (rt-CGM) that will be
more affordable and accessible for people with diabetes
in the UK.
The Dexcom ONE, a wearable sensor and transmitter,
puts people firmly in control of their diabetes. By
continuously monitoring glucose levels and sending realtime values
wirelessly to a compatible smart device* via
the Dexcom ONE mobile app, the technology eliminates
the need for painful finger pricking to take blood tests.
The app was designed to be user friendly, displaying trend
arrows to show the speed and direction glucose levels
are heading, making in the moment treatment decisions
easier. A range of customisable alerts help users avoid
potentially dangerous high or low glucose events.
The Dexcom G6 CGM will continue to be available
through existing channels to people who require
additional support to manage diabetes, for example
people who are hypo unaware, children and those using
connected devices.
GLUCORX
Following the latest NICE guidelines, every person living
with Type 1 diabetes will be eligible to use a CGM. The
GlucoRx AiDEX CGM has been available on the Drug tariff
since April 1, 2022. The wearable sensor allows people
to check their glucose levels with a one-second scan.
According to GlucoRx, the product combines accuracy
and cost-efficiency in price compared to other CGMs
options and is the first company to roll out sensors with
14 days use to NHS patients with Type 1 diabetes.
Chris Chapman, a Chief Operating Officer of GlucoRx,
says, "We are delighted that our CGM devices are the
first CGMs to be available on prescription for every NHS
patient with Type 1 diabetes. It is an honour to work with
the NHS on such a big project which will improve the
quality of life for thousands of people with the condition.
Achieving drug tariff status [i.e. available on the NHS]
allows us to make a bigger difference within the world
of diabetes. We pride ourselves on enhancing the health
outcomes for people living with Type 1 diabetes."
Founded in 2010, GlucoRx is committed to improving
the lives of people with diabetes. To date, more
than 1,000 GlucoRx CGM's have been sold, prior to
becoming available on the NHS, with users branding
the GlucoRx AiDEX CGM as 'super easy to use' and
'extremely accurate'.
Research presented at the Diabetes UK Professional
Conference 2022 revealed that flash monitoring not
only helps to improve blood glucose levels in people
with Type 1 diabetes, but also has a positive effect on
their quality of life. According to the NHS, tools like
continuous glucose monitoring, which help people better
manage their condition and reduce associated illness and
hospitalisations, will reduce costs in the long run.
This news comes as the National Institute for Health
and Care Excellence (NICE) announced new guidance
for adults and children managing Type 1 diabetes, where
all Type 1 diabetes children/young people offered CGM
ahead of Flash (Abbott's FreeStyle Libre technology,
together with education for both they and their families
and/or carers on how to use their device. Also, all Type 1
diabetes adults will be offered a choice of CGM devices.
*For a list of compatible devices, visit www.dexcom.
com/en-GB/compatibility
†If your glucose alerts and readings from Dexcom ONE do
not match symptoms or expectations, use a blood glucose
meter to make diabetes treatment decisions.