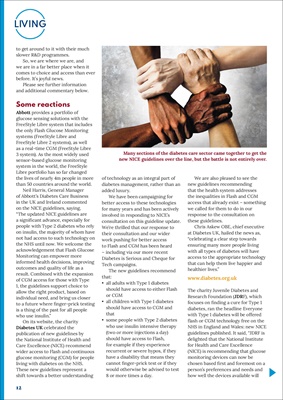 12
LIVING
slower R&D programmes.
So, we are where we are, and
we are in a far better place when it
comes to choice and access than ever
before. It's joyful news.
Please see further information
and additional commentary below.
Some reactions
Abbott provides a portfolio of
glucose sensing solutions with the
FreeStyle Libre system that includes
the only Flash Glucose Monitoring
systems (FreeStyle Libre and
FreeStyle Libre 2 systems), as well
as a real-time CGM (FreeStyle Libre
3 system). As the most widely used
sensor-based glucose monitoring
system in the world, the FreeStyle
Libre portfolio has so far changed
the lives of nearly 4m people in more
than 50 countries around the world.
Neil Harris, General Manager
of Abbott's Diabetes Care Business
in the UK and Ireland commented
on the NICE guidelines, saying,
"The updated NICE guidelines are
a significant advance, especially for
people with Type 2 diabetes who rely
on insulin, the majority of whom have
not had access to such technology on
the NHS until now. We welcome the
acknowledgement that Flash Glucose
Monitoring can empower more
informed health decisions, improving
outcomes and quality of life as a
result. Combined with the expansion
of CGM access for those with Type
1, the guidelines support choice to
allow the right product, based on
individual need, and bring us closer
to a future where finger-prick testing
is a thing of the past for all people
who use insulin."
On its website, the charity
Diabetes UK celebrated the
publication of new guidelines by
the National Institute of Health and
Care Excellence (NICE) recommend
wider access to Flash and continuous
glucose monitoring (CGM) for people
living with diabetes on the NHS.
These new guidelines represent a
shift towards a better understanding
of technology as an integral part of
diabetes management, rather than an
added luxury.
We have been campaigning for
better access to these technologies
for many years and has been actively
involved in responding to NICE's
consultation on this guideline update.
We're thrilled that our response to
their consultation and our wider
work pushing for better access
to Flash and CGM has been heard
- including via our more recent
Diabetes is Serious and Cheque for
Tech campaigns.
The new guidelines recommend
that:
• all adults with Type 1 diabetes
should have access to either Flash
or CGM
• all children with Type 1 diabetes
should have access to CGM and
that
• some people with Type 2 diabetes
who use insulin intensive therapy
(two or more injections a day)
should have access to Flash,
for example if they experience
recurrent or severe hypos, if they
have a disability that means they
cannot finger-prick test or if they
would otherwise be advised to test
8 or more times a day.
We are also pleased to see the
new guidelines recommending
that the health system addresses
the inequalities in Flash and CGM
access that already exist - something
we called for them to do in our
response to the consultation on
these guidelines.
Chris Askew OBE, chief executive
at Diabetes UK, hailed the news as,
"celebrating a clear step towards
ensuring many more people living
with all types of diabetes will have
access to the appropriate technology
that can help them live happier and
healthier lives."
The charity Juvenile Diabetes and
Research Foundation (JDRF), which
focuses on finding a cure for Type 1
diabetes, ran the headline Everyone
with Type 1 diabetes will be offered
flash or CGM technology free on the
NHS in England and Wales: new NICE
guidelines published. It said, "JDRF is
delighted that the National Institute
for Health and Care Excellence
(NICE) is recommending that glucose
monitoring devices can now be
chosen based first and foremost on a
person's preferences and needs and
how well the devices available will
Many sections of the diabetes care sector came together to get the
new NICE guidelines over the line, but the battle is not entirely over.