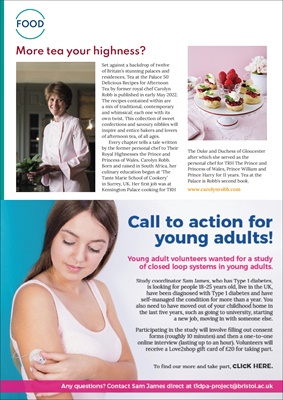 30
FOOD
More tea your highness?
Set against a backdrop of twelve
of Britain's stunning palaces and
residences, Tea at the Palace 50
Delicious Recipes for Afternoon
Tea by former royal chef Carolyn
Robb is published in early May 2022.
The recipes contained within are
a mix of traditional, contemporary
and whimsical; each one with its
own twist. This collection of sweet
confections and savoury nibbles will
inspire and entice bakers and lovers
of afternoon tea, of all ages.
Every chapter tells a tale written
by the former personal chef to Their
Royal Highnesses the Prince and
Princess of Wales. Carolyn Robb.
Born and raised in South Africa, her
culinary education began at 'The
Tante Marie School of Cookery'
in Surrey, UK. Her first job was at
Kensington Palace cooking for TRH
The Duke and Duchess of Gloucester
after which she served as the
personal chef for TRH The Prince and
Princess of Wales, Prince William and
Prince Harry for 11 years. Tea at the
Palace is Robb's second book.