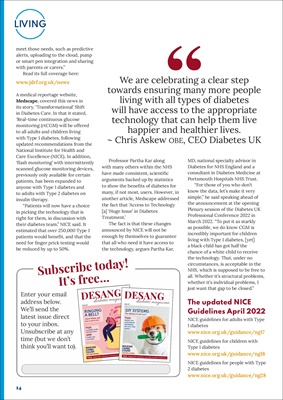 14 KIT
h.
ed
s'
ay
ns
to
e,
ne
es
a
re
Dnt
ch
ne
se
ar
P
er
he
de
be
he
al
ng
s.
in
C
se
is
e,
he
ch
he
ut
s.
'll
en
to
ht
en
o.
d,
we then take a six-minute rest (which
again is adaptable) and once recovered,
we repeat the circuit all over again."
Stephenson-Grey took part in the
London 2012 Olympics Games torch
relay and still trains (prior to lockdown) at
the track and in the gym. The exercises
she does include standing squats, pressups, the
plank, lunges, the superman
pose (when the opposite arm and leg are
stretched out) and sit ups.
She says, "This type of fitness session
is inspired by the type of session I've often
done with my training group over the
years, particularly at the start of the winter
or summer training season, as it helps
build strength and fitness as a foundation
to move onto other things. It works the
arms, legs and core areas throughout
the session, which can be helpful when
training a lot, because no one area is
necessarily over-worked or strained."
The home workout videos have been
accepted by many in the community.
She adds, "I'm sharing what training
sessions work for me. Please remember
that you know your own fitness, health
and diabetes best. Seek medical advice
if you are concerned about undertaking
physical activity."
Home workouts with Mel Stephenson-Grey of Life Sport Diabetes.
www. lifesportdiabetes.co.uk
ISSUE 88
DIABETES MAGAZINE
DESANG
MAKING
CARBS
COUNT:
SWEET POTATO
PLUS • Diabetes kit • Giveaways • News (for T1 and T2) • Food News
Access to blood test strips
and meters: your choice
PLUS:
Screen Time
(part 2): meters
Subscribe today!
Enter your email
address below.
We'll send the
latest issue direct
to your inbox.
Unsubscribe at any
time (but we don't
think you'll want to).
It's free...
Subscribe today!
It's free...
Enter your email
address below.
We'll send the
latest issue direct
to your inbox.
Unsubscribe at any
time (but we don't
think you'll want to). ISSUE 120
MAKING
CARBS
COUNT
EAT YOUR GREENS!
PLUS Diabetes kit • Giveaways • News (for T1 and T2) • Food News
RINGING
A BELL?
Alarm fatigue and
how to prevent it
PLUS
An update on the
MiniMed 780G
AND
Explore our
'new look'!
ISSUE 119
MAKING
CARBS
COUNT
LUSCIOUS LYCHEES
PLUS Diabetes kit • Giveaways • News (for T1 and T2) • Food News
DIY SYSTEMS
The ultimate in self-care?
PLUS
Roche's new
meter launch:
introducing
the Accu-Chek
Instant
We are celebrating a clear step
towards ensuring many more people
living with all types of diabetes
will have access to the appropriate
technology that can help them live
happier and healthier lives.
~ Chris Askew OBE, CEO Diabetes UK
meet those needs, such as predictive
alerts, uploading to the cloud, pump
or smart pen integration and sharing
with parents or carers."
Read its full coverage here:
A medical reportage website,
Medscape, covered this news in
its story, 'Transformational' Shift
in Diabetes Care. In that it stated,
'Real-time continuous glucose
monitoring (rtCGM) will be offered
to all adults and children living
with Type 1 diabetes, following
updated recommendations from the
National Institute for Health and
Care Excellence (NICE). In addition,
'flash monitoring' with intermittently
scanned glucose monitoring devices,
previously only available for certain
patients, has been expanded to
anyone with Type 1 diabetes and
to adults with Type 2 diabetes on
insulin therapy.
"Patients will now have a choice
in picking the technology that is
right for them, in discussion with
their diabetes team," NICE said. It
estimated that over 250,000 Type 1
patients would benefit, and that the
need for finger prick testing would
be reduced by up to 50%.
Professor Partha Kar along
with many others within the NHS
have made consistent, scientific
arguments backed up by statistics
to show the benefits of diabetes for
many, if not most, users. However, in
another article, Medscape addressed
the fact that 'Access to Technology
[a] 'Huge Issue' in Diabetes
Treatment.'
The fact is that these changes
announced by NICE will not be
enough by themselves to guarantee
that all who need it have access to
the technology, argues Partha Kar,
MD, national specialty advisor in
Diabetes for NHS England and a
consultant in Diabetes Medicine at
Portsmouth Hospitals NHS Trust.
"For those of you who don't
know the data, let's make it very
simple," he said speaking ahead of
the announcement at the opening
Plenary session of the Diabetes UK
Professional Conference 2022 in
March 2022. "To put it as starkly
as possible, we do know CGM is
incredibly important for children
living with Type 1 diabetes, [yet]
a black child has got half the
chance of a white child to receive
the technology. That, under no
circumstances, is acceptable in the
NHS, which is supposed to be free to
all. Whether it's structural problems,
whether it's individual problems, I
just want that gap to be closed."
The updated NICE
Guidelines April 2022
NICE guidelines for adults with Type
1 diabetes
NICE guidelines for children with
Type 1 diabetes
NICE guidelines for people with Type
2 diabetes