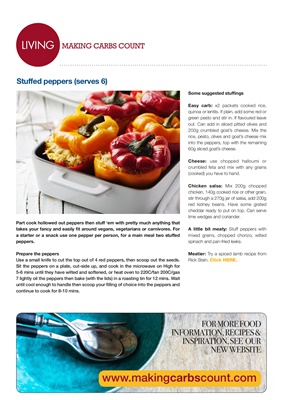 LIVINGLIVING
Stuffed peppers (serves 6)
MAKING CARBS COUNT
Some suggested stuffings
Easy carb: x2 packets cooked rice,
quinoa or lentils. If plain, add some red or
green pesto and stir in. If flavoured leave
out. Can add in sliced pitted olives and
200g crumbled goat's cheese. Mix the
rice, pesto, olives and goat's cheese mix
into the peppers, top with the remaining
60g sliced goat's cheese.
Cheese: use chopped halloumi or
crumbled feta and mix with any grains
(cooked) you have to hand.
Chicken salsa: Mix 200g chopped
chicken, 140g cooked rice or other grain,
stir through a 270g jar of salsa, add 200g
red kidney beans. Have some grated
cheddar ready to put on top. Can serve
lime wedges and coriander.
A little bit meaty: Stuff peppers with
mixed grains, chopped chorizo, wilted
spinach and pan-fried leeks.
Meatier: Try a spiced lamb recipe from
Rick Stein. Click HERE.
FOR MORE FOOD
INFORMATION, RECIPES &
INSPIRATION, SEE OUR
NEW WEBSITE
Part cook hollowed out peppers then stuff 'em with pretty much anything that
takes your fancy and easily fit around vegans, vegetarians or carnivores. For
a starter or a snack use one pepper per person, for a main meal two stuffed
peppers.
Prepare the peppers
Use a small knife to cut the top out of 4 red peppers, then scoop out the seeds.
Sit the peppers on a plate, cut-side up, and cook in the microwave on High for
5-6 mins until they have wilted and softened, or heat oven to 220C/fan 200C/gas
7 lightly oil the peppers then bake (with the lids) in a roasting tin for 12 mins. Wait
until cool enough to handle then scoop your filling of choice into the peppers and
continue to cook for 8-10 mins.