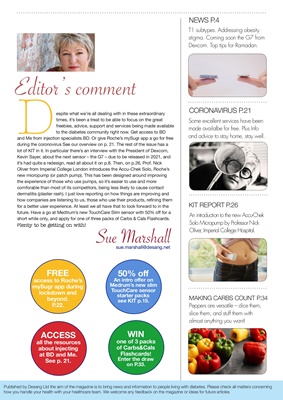 Published by Desang Ltd the aim of the magazine is to bring news and information to people living with diabetes. Please check all matters concerning
how you handle your health with your healthcare team. We welcome any feedback on the magazine or ideas for future articles..
Sue Marshall
Despite what we're all dealing with in these extraordinary
times, it's been a treat to be able to focus on the great
freebies, advice, support and services being made available
to the diabetes community right now. Get access to BD
and Me from injection specialists BD. Or give Roche's mySugr app a go for free
during the coronovirus See our overview on p. 21. The rest of the issue has a
lot of KIT in it. In particular there's an interview with the President of Dexcom,
Kevin Sayer, about the next sensor - the G7 - due to be released in 2021, and
it's had quite a redesign, read all about it on p.8. Then, on p.26, Prof. Nick
Oliver from Imperial College London introduces the Accu-Chek Solo, Roche's
new micropump (or patch pump). This has been designed around improving
the experience of those who use pumps, so it's easier to use and more
comforable than most of its competitors, being less likely to cause contact
dermatitis (plaster rash). I just love reporting on how things are improving and
how companies are listening to us, those who use their products, refining them
for a better user experience. At least we all have that to look forward to in the
future. Have a go at Medtrum's new TouchCare Slim sensor with 50% off for a
short while only, and apply for one of three packs of Carbs & Cals Flashcards.
Plenty to be getting on with!
Editor's comment
An introduction to the new Accu-Chek
Solo Micropump by Professor Nick
Oliver, Imperial College Hospital.
KIT REPORT P.26
NEWS P.4
T1 subtypes. Addressing obesity
stigma. Coming soon the G7 from
Dexcom. Top tips for Ramadan.
Some excellent services have been
made availalbe for free. Plus Info
and advice to stay home, stay well.
CORONAVIRUS P.21
MAKING CARBS COUNT P.34
Peppers are versatile - dice them,
slice them, and stuff them with
almost anything you want!
FREE
access to Roche's
mySugr app during
lockdown and
beyond.
P.22.
ACCESS
all the resources
about injecting
at BD and Me.
See p. 21.
50% off
An intro offer on
Medrum's new slim
TouchCare sensor
starter packs
see KIT p.15.
WIN
one of 3 packs
of Carbs&Cals
Flashcards!
Enter the draw
on P.33.