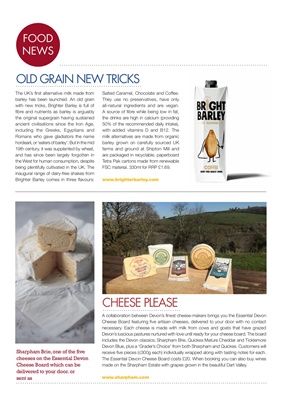 LIVINGLIVING
FOOD
NEWS
CHEESE PLEASE
OLD GRAIN NEW TRICKS
The UK's first alternative milk made from
barley has been launched. An old grain
with new tricks, Brighter Barley is full of
fibre and nutrients as barley is arguably
the original supergrain having sustained
ancient civilisations since the Iron Age,
including the Greeks, Egyptians and
Romans who gave gladiators the name
hordearii, or 'eaters of barley'. But in the mid
19th century, it was supplanted by wheat,
and has since been largely forgotten in
the West for human consumption, despite
being plentifully cultivated in the UK. The
inaugural range of dairy-free shakes from
Brighter Barley comes in three flavours:
A collaboration between Devon's finest cheese-makers brings you the Essential Devon
Cheese Board featuring five artisan cheeses, delivered to your door with no contact
necessary. Each cheese is made with milk from cows and goats that have grazed
Devon's luscious pastures nurtured with love until ready for your cheese board. The board
includes the Devon classics; Sharpham Brie, Quickes Mature Cheddar and Ticklemore
Devon Blue, plus a 'Grader's Choice' from both Sharpham and Quickes. Customers will
receive five pieces (c300g each) individually wrapped along with tasting notes for each.
The Essential Devon Cheese Board costs £20. When booking you can also buy wines
made on the Sharpham Estate with grapes grown in the beautiful Dart Valley.
Salted Caramel, Chocolate and Coffee.
They use no preservatives, have only
all-natural ingredients and are vegan.
A source of fibre while being low in fat,
the drinks are high in calcium (providing
50% of the recommended daily intake),
with added vitamins D and B12. The
milk alternatives are made from organic
barley grown on carefully sourced UK
farms and ground at Shipton Mill and
are packaged in recyclable, paperboard
Tetra Pak cartons made from renewable
FSC material. 330ml for RRP £1.69.
Sharpham Brie, one of the five
cheeses on the Essential Devon
Cheese Board which can be
delivered to your door. or
sent as