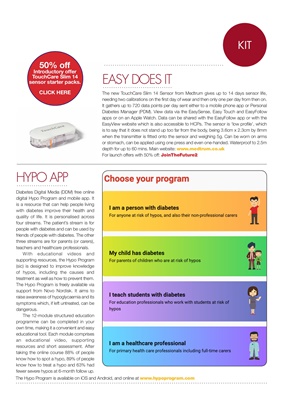 KIT
EASY DOES IT
The new TouchCare Slim 14 Sensor from Medtrum gives up to 14 days sensor life,
needing two calibrations on the first day of wear and then only one per day from then on.
It gathers up to 720 data points per day sent either to a mobile phone app or Personal
Diabetes Manager (PDM). View data via the EasySense, Easy Touch and EasyFollow
apps or on an Apple Watch. Data can be shared with the EasyFollow app or with the
EasyView website which is also accessible to HCPs. The sensor is 'low profile', which
is to say that it does not stand up too far from the body, being 3.6cm x 2.3cm by 8mm
when the transmitter is fitted onto the sensor and weighing 5g. Can be worn on arms
or stomach, can be applied using one press and even one-handed. Waterproof to 2.5m
depth for up to 60 mins. Main website: www.medtrum.co.uk
For launch offers with 50% off: JoinTheFuture2
Diabetes Digital Media (DDM) free online
digital Hypo Program and mobile app. It
is a resource that can help people living
with diabetes improve their health and
quality of life. It is personalised across
four streams. The patient's stream is for
people with diabetes and can be used by
friends of people with diabetes. The other
three streams are for parents (or carers),
teachers and healthcare professionals.
With educational videos and
supporting resources, the Hypo Program
(sic) is designed to improve knowledge
of hypos, including the causes and
treatment as well as how to prevent them.
The Hypo Program is freely available via
support from Novo Nordisk. It aims to
raise awareness of hypoglycaemia and its
symptoms which, if left untreated, can be
dangerous.
The 12-module structured education
programme can be completed in your
own time, making it a convenient and easy
educational tool. Each module comprises
an educational video, supporting
resources and short assessment. After
taking the online course 88% of people
know how to spot a hypo, 89% of people
know how to treat a hypo and 63% had
fewer severe hypos at 6-month follow up.
HYPO APP
The Hypo Program is available on iOS and Android, and online at www.hypoprogram.com
50% off
Introductory offer
TouchCare Slim 14
sensor starter packs.
CLICK HERE