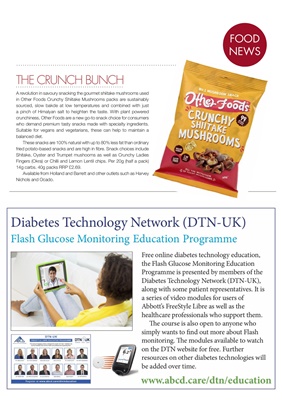 KITLIVING
THE CRUNCH BUNCH
FOOD
NEWS
A revolution in savoury snacking the gourmet shiitake mushrooms used
in Other Foods Crunchy Shiitake Mushrooms packs are sustainably
sourced, slow bakde at low temperatures and combined with just
a pinch of Himalyan salt to heighten the taste. With plant powered
crunchiness, Other Foods are a new go-to snack choice for consumers
who demand premium tasty snacks made with specialty ingredients.
Suitable for vegans and vegetarians, these can help to maintain a
balanced diet.
These snacks are 100% natural with up to 80% less fat than ordinary
fried potato-based snacks and are high in fibre. Snack choices include
Shitake, Oyster and Trumpet mushooms as well as Crunchy Ladies
Fingers (Okra) or Chilli and Lemon Lentil chips. Per 20g (half a pack)
14g carbs. 40g packs RRP £2.69.
Available from Holland and Barrett and other outlets such as Harvey
Nichols and Ocado.