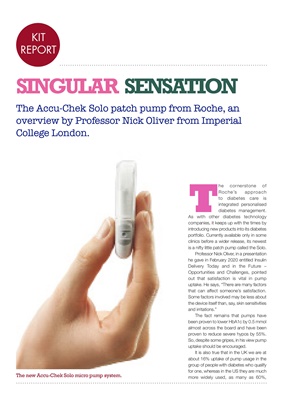 LIVINGLIVING
The new Accu-Chek Solo micro pump system.
SINGULAR SENSATION
The Accu-Chek Solo patch pump from Roche, an
overview by Professor Nick Oliver from Imperial
College London*.
T
he cornerstone of
Roche's approach
to diabetes care is
integrated personalised
diabetes management.
As with other diabetes technology
companies, it keeps up with the times by
introducing new products into its diabetes
portfolio. Currently available only in some
clinics before a wider release, its newest
is a nifty little patch pump called the Solo.
Professor Nick Oliver, in a presentation
he gave in February 2020 entitled Insulin
Delivery Today and in the Future -
Opportunities and Challenges, pointed
out that satisfaction is vital in pump
uptake. He says, "There are many factors
that can affect someone's satisfaction.
Some factors involved may be less about
the device itself than, say, skin sensitivities
and irritations."
The fact remains that pumps have
been proven to lower HbA1c by 0.5 mmol
almost across the board and have been
proven to reduce severe hypos by 55%.
So, despite some gripes, in his view pump
uptake should be encouraged.
It is also true that in the UK we are
at about 16% uptake of pump usage in
the group of people with diabetes who
qualify one, whereas in the US they are
much more widely used, as many as
KIT
REPORT