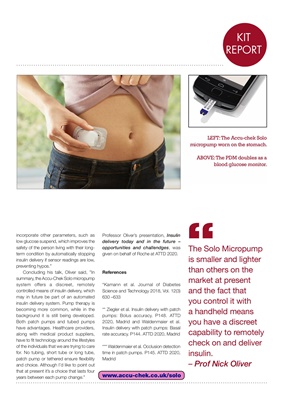 KITLIVING
LEFT: The Accu-chek Solo
micropump worn on the stomach.
ABOVE: The PDM doubles as a
blood glucose monitor.
KIT
REPORT
incorporate other parameters, such as
low glucose suspend, which improves the
safety of the person living with their longterm condition by automatically stopping
insulin delivery if sensor readings are low,
preventing hypos."
Concluding his talk, Oliver said, "In
summary, the Accu-Chek Solo micropump
system offers a discreet, remotely
controlled means of insulin delivery, which
may in future be part of an automated
insulin delivery system. Pump therapy is
becoming more common, while in the
background it is still being developed.
Both patch pumps and tubed pumps
have advantages. Healthcare providers,
along with medical product suppliers,
have to fit technology around the lifestyles
of the individuals that we are trying to care
for. No tubing, short tube or long tube,
patch pump or tethered ensure flexibility
and choice. Although I'd like to point out
that at present it's a choice that lasts four
years between each pump change."
References
*Professor Oliver's presentation on behalf
of Roche was at the ATTD conference
held in February 2020.
**
***
****
The Solo Micropump
is smaller and lighter
than others on the
market at present
and the fact that
you control it with
a handheld means
you have a discreet
capability to remotely
check on and deliver
insulin. - Professor
Nick Oliver
"