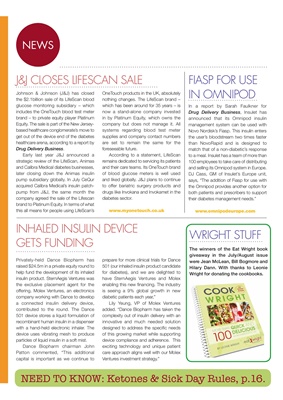 NEWS
J&J CLOSES LIFESCAN SALE
Johnson & Johnson (J&J) has closed
the $2.1billion sale of its LifeScan blood
glucose monitoring subsidiary - which
includes the OneTouch blood test meter
brand - to private equity player Platinum
Equity. The sale is part of the New Jerseybased healthcare
conglomerate's move to
get out of the device end of the diabetes
healthcare arena, according to a report by
Drug Delivery Business.
Early last year J&J announced a
strategic review of the LifeScan, Animas
and Calibra Medical diabetes businesses,
later closing down the Animas insulin
pump subsidiary globally. In July CeQur
acquired Calibra Medical's insulin patchpump from
J&J, the same month the
company agreed the sale of the Lifescan
brand to Platinum Equity. In terms of what
this all means for people using LifeScan's
OneTouch products in the UK, absolutely
nothing changes. The LifeScan brand -
which has been around for 35 years - is
now a stand-alone company invested
in by Platinum Equity, which owns the
company but does not manage it. All
systems regarding blood test meter
supplies and company contact numbers
are set to remain the same for the
foreseeable future.
According to a statement, LifeScan
remains dedicated to servicing its patients
and their care teams. Its OneTouch brand
of blood glucose meters is well used
and liked globally. J&J plans to continue
to offer bariatric surgery products and
drugs like Invokana and Invokamet in the
diabetes sector.
In a report by Sarah Faulkner for
Drug Delivery Business, Insulet has
announced that its Omnipod insulin
management system can be used with
Novo Nordisk's Fiasp. This insulin enters
the user's bloodstream two times faster
than NovoRapid and is designed to
match that of a non-diabetic's response
to a meal. Insulet has a team of more than
100 employees to take care of distributing
and selling its Omnipod system in Europe.
DJ Cass, GM of Insulet's Europe unit,
says, "The addition of Fiasp for use with
the Omnipod provides another option for
both patients and prescribers to support
their diabetes management needs."
FIASP FOR USE
IN OMNIPOD
Privately-held Dance Biopharm has
raised $24.5m in a private equity round to
help fund the development of its inhaled
insulin product. SternAegis Ventures was
the exclusive placement agent for the
offering. Molex Ventures, an electronics
company working with Dance to develop
a connected insulin delivery device,
contributed to the round. The Dance
501 device stores a liquid formulation of
recombinant human insulin in a dispenser
with a hand-held electronic inhaler. The
device uses vibrating mesh to produce
particles of liquid insulin in a soft mist.
Dance Biopharm chairman John
Patton commented, "This additional
capital is important as we continue to
prepare for more clinical trials for Dance
501 (our inhaled insulin product candidate
for diabetes), and we are delighted to
have SternAegis Ventures and Molex
enabling this new financing. The industry
is seeing a 9% global growth in new
diabetic patients each year,"
Lily Yeung, VP of Molex Ventures
added. "Dance Biopharm has taken the
complexity out of insulin delivery with an
innovative and much needed solution
designed to address the specific needs
of this growing market while supporting
device compliance and adherence. This
exciting technology and unique patient
care approach aligns well with our Molex
Ventures investment strategy."
INHALED INSULIN DEVICE
GETS FUNDING
WRIGHT STUFF
The winners of the Eat Wright book
giveaway in the July/August issue
were Jean McLean, Bill Bogmore and
Hilary Dann. With thanks to Leonie
Wright for donating the cookbooks.
NEED TO KNOW: Ketones & Sick Day Rules, p.