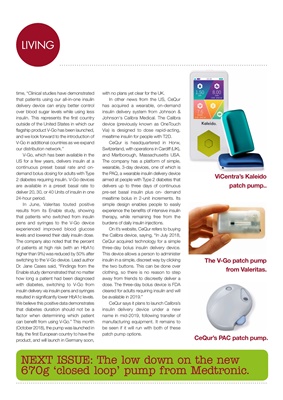 LIVINGLIVING
that patients using our all-in-one insulin
delivery device can enjoy better control
over blood sugar levels while using less
insulin. This represents the first country
outside of the United States in which our
flagship product V-Go has been launched,
and we look forward to the introduction of
V-Go in additional countries as we expand
our distribution network."
V-Go, which has been available in the
US for a few years, delivers insulin at a
continuous preset basal rate and ondemand bolus dosing for adults with Type
2 diabetes requiring insulin. V-Go devices
are available in a preset basal rate to
deliver 20, 30, or 40 Units of insulin in one
24-hour period.
In June, Valeritas touted positive
results from its Enable study, showing
that patients who switched from insulin
pens and syringes to the V-Go device
experienced improved blood glucose
levels and lowered their daily insulin dose.
The company also noted that the percent
of patients at high risk (with an HbA1c
higher than 9%) was reduced by 50% after
switching to the V-Go device. Lead author
Dr. Jane Cases said, "Findings from the
Enable study demonstrated that no matter
how long a patient had been diagnosed
with diabetes, switching to V-Go from
insulin delivery via insulin pens and syringes
resulted in significantly lower HbA1c levels.
We believe this positive data demonstrates
that diabetes duration should not be a
factor when determining which patient
can benefit from using V-Go." This month
(October 2018), the pump was launched in
Italy, the first European country to have the
product, and will launch in Germany soon,
with no plans yet clear for the UK.
In other news from the US, CeQur
has acquired a wearable, on-demand
insulin delivery system from Johnson
& Johnson's Calibra Medical. The
Calibra device (previously known as the
OneTouch Via) is designed to dose rapidacting,
mealtime insulin for people with
Type 2 diabetes.
CeQur is headquartered in Horw,
Switzerland, with operations in Cardiff (UK),
and Marlborough, Massachusetts USA.
The company has a platform of simple,
wearable, 3-day devices, one of which is
the PAQ, a wearable insulin delivery device
aimed at people with Type 2 diabetes that
delivers up to three days of continuous
pre-set basal insulin plus on- demand
mealtime bolus in 2-unit increments. Its
simple design enables people to easily
experience the benefits of intensive insulin
therapy, while remaining free from the
burdens of daily insulin injections.
On it's website, CeQur refers to buying
the Calibra device, saying, "In July 2018,
CeQur acquired technology for a simple
three-day bolus insulin delivery device.
This device allows a person to administer
insulin in a simple, discreet way by clicking
the two buttons. This can be done over
clothing, so there is no reason to step
away from friends to discreetly deliver a
dose. The three-day bolus device is FDA
cleared for adults requiring insulin and will
be available in 2019."
CeQur says it plans to launch Calibra's
insulin delivery device under a new
name in mid-2019, following transfer of
manufacturing equipment. It remains to
be seen if it will run with both of these
patch pump options.
ViCentra's Kaleido
patch pump..
The V-Go patch pump
from Valeritas.
CeQur's PAC
patch pump.