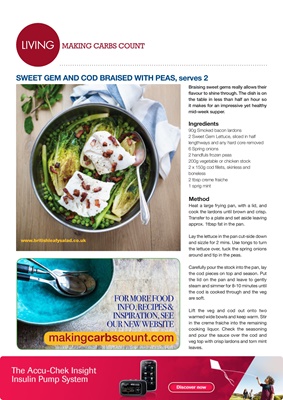 LIVINGLIVING
SWEET GEM AND COD BRAISED WITH PEAS, serves 2
Braising sweet gems really allows their
flavour to shine through. The dish is on
the table in less than half an hour so
it makes for an impressive yet healthy
mid-week supper.
Ingredients
90g Smoked bacon lardons
2 Sweet Gem Lettuce, sliced in half
lengthways and any hard core removed
6 Spring onions
2 handfuls frozen peas
200g vegetable or chicken stock
2 x 150g cod fillets, skinless and
boneless
2 tbsp creme fraiche
1 sprig mint
MAKING CARBS COUNT
Method
Heat a large frying pan, with a lid, and
cook the lardons until brown and crisp.
Transfer to a plate and set aside leaving
approx. 1tbsp fat in the pan.
Lay the lettuce in the pan cut-side down
and sizzle for 2 mins. Use tongs to turn
the lettuce over, tuck the spring onions
around and tip in the peas.
Carefully pour the stock into the pan, lay
the cod pieces on top and season. Put
the lid on the pan and leave to gently
steam and simmer for 8-10 minutes until
the cod is cooked through and the veg
are soft.
Lift the veg and cod out onto two
warmed wide bowls and keep warm. Stir
in the creme fraiche into the remaining
cooking liquor. Check the seasoning
and pour the sauce over the cod and
veg top with crisp lardons and torn mint
leaves.
FOR MORE FOOD
INFO, RECIPES &
INSPIRATION, SEE
OUR NEW WEBSITE
makingcarbscount.com