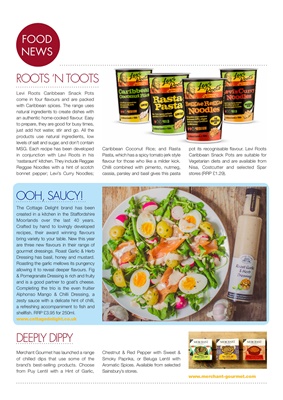 LIVINGLIVING
ROOTS 'N TOOTS
FOOD
NEWS
DEEPLY DIPPY
Merchant Gourmet has launched a range
of chilled dips that use some of the
brand's best-selling products. Choose
from Puy Lentil with a Hint of Garlic,
Levi Roots Caribbean Snack Pots
come in four flavours and are packed
with Caribbean spices. The range uses
natural ingredients to create dishes with
an authentic home-cooked flavour. Easy
to prepare, they are good for busy times,
just add hot water, stir and go. All the
products use natural ingredients, low
levels of salt and sugar, and don't contain
MSG. Each recipe has been developed
in conjunction with Levi Roots in his
'rastaraunt' kitchen. They include Reggae
Reggae Noodles with a hint of scotch
bonnet pepper; Levi's Curry Noodles;
Caribbean Coconut Rice; and Rasta
Pasta, which has a spicy tomato jerk style
flavour for those who like a milder kick.
Chilli combined with pimento, nutmeg,
cassia, parsley and basil gives this pasta
pot its recognisable flavour. Levi Roots
Caribbean Snack Pots are suitable for
Vegetarian diets and are available from
Nisa, Costcutter and selected Spar
stores (RRP £1.29).
The Cottage Delight brand has been
created in a kitchen in the Staffordshire
Moorlands over the last 40 years.
Crafted by hand to lovingly developed
recipes, their award winning flavours
bring variety to your table. New this year
are three new flavours in their range of
gourmet dressings. Roast Garlic & Herb
Dressing has basil, honey and mustard.
Roasting the garlic mellows its pungency
allowing it to reveal deeper flavours. Fig
& Pomegranate Dressing is rich and fruity
and is a good partner to goat's cheese.
Completing the trio is the even fruitier
Alphonso Mango & Chilli Dressing, a
zesty sauce with a delicate hint of chilli,
a refreshing accompaniment to fish and
shellfish. RRP £3.95 for 250ml.
OOH, SAUCY!
Chestnut & Red Pepper with Sweet &
Smoky Paprika, or Beluga Lentil with
Aromatic Spices. Available from selected
Sainsbury's stores.