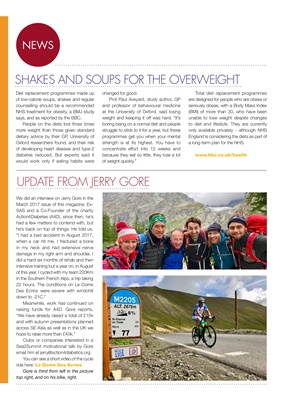 NEWS
Diet replacement programmes made up
of low-calorie soups, shakes and regular
counselling should be a recommended
NHS treatment for obesity, a BMJ study
says, and as reported by the BBC.
People on the diets lost three times
more weight than those given standard
dietary advice by their GP, University of
Oxford researchers found, and their risk
of developing heart disease and type-2
diabetes reduced. But experts said it
would work only if eating habits were
changed for good.
Prof Paul Aveyard, study author, GP
and professor of behavioural medicine
at the University of Oxford, said losing
weight and keeping it off was hard. "It's
boring being on a normal diet and people
struggle to stick to it for a year, but these
programmes get you when your mental
strength is at its highest. You have to
concentrate effort into 12 weeks and
because they eat so little, they lose a lot
of weight quickly."
SHAKES AND SOUPS FOR THE OVERWEIGHT
Total diet replacement programmes
are designed for people who are obese or
seriously obese, with a Body Mass Index
(BMI) of more than 30, who have been
unable to lose weight despite changes
to diet and lifestyle. They are currently
only available privately - although NHS
England is considering the diets as part of
a long-term plan for the NHS.
We did an interview on Jerry Gore in
the xxxxxx issue of this magazine. ExSAS
and a Co-Founder of the charity
Action4Diabetes (A4D), since then, he's
had a few matters to contend with, but
he's back on top of things. He told us,
"I had a bad accident in August 2017,
when a car hit me. I fractured a bone
in my neck and had extensive nerve
damage in my right arm and shoulder, I
did a hard six months of rehab and then
intensive training but a year on, in August
of this year, I cycled with my team 220Km
in the Southern French Alps, a trip taking
22 hours. The conditions on Le Dome
Des Ecrins were severe with windchill
down to -21C."
Meanwhile, work has continued on
raising funds for A4D. Gore reports,
"We have already raised a total of £15k
and with autumn presentations planned
across SE Asia as well as in the UK we
hope to raise more than £40k."
Cluberry@action4diabetics.org in a
Sea2Summit motivational talk by Gore
email him at erry@action4diabetics.org
You can see a short video of the cycle
ride here: Le Dome Des Ecrins
Gore is third from left in the picture
top right, and on his bike, right.
UPDATE FROM JERRY GORE