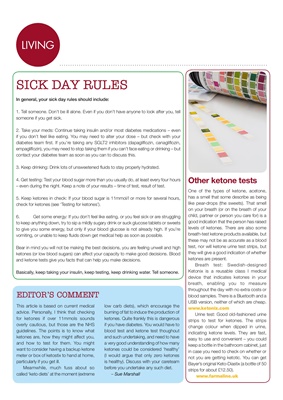 LIVINGLIVING
One of the types of ketone, acetone,
has a smell that some describe as being
like pear-drops (the sweets). That smell
on your breath (or on the breath of your
child, partner or person you care for) is a
good indication that the person has raised
levels of ketones. There are also some
breath-test ketone products available, but
these may not be as accurate as a blood
test, nor will ketone urine test strips, but
they will give a good indication of whether
ketones are present.
Breath test: Swedish-designed
Ketonix is a reusable class I medical
device that indicates ketones in your
breath, enabling you to measure
throughout the day with no extra costs or
blood samples. There is a Bluetooth and a
USB version, neither of which are cheap.
Urine tests: Good old-fashioned
urine strips to test for ketones. The strips
change colour when dipped in urine,
indicating ketone levels. They are fast,
easy to use and convenient - you could
keep a bottle in the bathroom cabinet, just
in case you need to check on whether or
not you are getting ketotic. You can get
Bayer's original Keto-Diastix (a bottle of 50
strips for about £12.50).
EDITOR'S COMMENT low carb diets), which encourage the
burning of fat to induce the production of
ketones. Quite frankly this is dangerous
if you have diabetes. You would have to
blood test and ketone test thoughout
and such undertaking, and need to have
a very good understanding of how many
ketones could be considered 'healthy'
(I would argue that only zero ketones
is healthy). Discuss with your careteam
before you undertake any such diet.
- Sue Marshall
This article is based on current medical
advice. Personally, I think that checking
for ketones if over 11mmols sounds
overly cautious, but those are the NHS
guidelines. The points is to know what
ketones are, how they might affect you,
and how to test for them. You might
want to consider having a backup ketone
meter or box of ketostix to hand at home,
particularly if you get ill.
Meamwhile, much fuss about so
called 'keto diets' at the moment (extreme
Other ketone tests
In general, your sick day rules should include:
1. Tell someone. Don't be ill alone. Even if you don't have anyone to look after you, tell
someone if you get sick.
2. Take your meds: Continue taking insulin and/or most diabetes medications - even
if you don't feel like eating. You may need to alter your dose - but check with your
diabetes team first. If you're taking any SGLT2 inhibitors (dapagliflozin, canagliflozin,
empagliflozin), you may need to stop taking them if you can't face eating or drinking - but
contact your diabetes team as soon as you can to discuss this.
3. Keep drinking: Drink lots of unsweetened fluids to stay properly hydrated.
4. Get testing: Test your blood sugar more than you usually do, at least every four hours
- even during the night. Keep a note of your results - time of test, result of test.
5. Keep ketones in check: If your blood sugar is 11mmol/l or more for several hours,
check for ketones (see 'Testing for ketones').
6. Get some energy: If you don't feel like eating, or you feel sick or are struggling
to keep anything down, try to sip a mildly sugary drink or suck glucose tablets or sweets
to give you some energy, but only if your blood glucose is not already high. If you're
vomiting, or unable to keep fluids down get medical help as soon as possible.
Bear in mind you will not be making the best decisions, you are feeling unwell and high
ketones (or low blood sugars) can affect your capacity to make good decisions. Blood
and ketone tests give you facts that can help you make decisions.
Basically, keep taking your insulin, keep testing, keep drinking water. Tell someone.
SICK DAY RULES