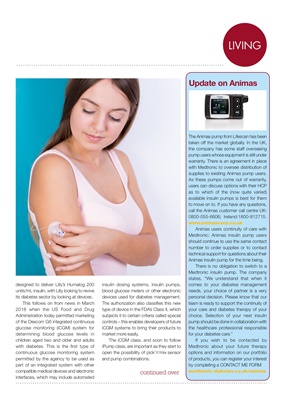 KITLIVING
RVIEW
, both in the UK and
mp availability in
stems are listed in
n additional section
insulin pump. Participation in JDRF's
open-protocol Automated Insulin Delivery
(AID) systems initiative is the next logical
technical development and which should
give people with T1D expanded freedom
of choice in their therapy options.
Dashing forward
When Pat Sullivan joined Insulet as CEO
in 2014, the Massachusetts-based
company was turning over roughly $300
million in revenue selling its Omnipod
tubeless insulin delivery system. Sullivan,
a veteran of the medtech industry, saw a
path to creating a billion-dollar company
centered around the concept of making life
easier for people with diabetes. In August
2018, he told Drug Delivery Business
(as reported by Sarah Faulkner): "I want
to bringing new and innovative technology
to market and I was totally enamoured
with the Omnipod. I understood why this
product should be the standard of care in
insulin delivery and I've been working for
the last four years to make that happen."
The Omnipod system, which has
been on the market for years, is steadily
advancing in the US and abroad. But
the company's latest regulatory win
represents the future of its product
portfolio, according to Sullivan. In June,
the FDA clearance for Insulet's Omnipod
Dash insulin management system,
which wirelessly connects the system's
Personal Diabetes Manager (PDM) with
the tubeless, waterproof pump. Using
blood glucose readings from the Contour
Next One blood glucose meter, the PDM
calculates how much insulin should be
administered. The system connects via
Bluetooth to the Omnipod Display and
View mobile apps, giving users and
caregivers access to all data. Sullivan
points out that the new Dash will be used
for the company's future development
efforts, including its partnership with Eli
Lilly and its Omnipod Horizon artificial
pancreas programme.
In January 2016 Insulet announced
it was in a development agreement with
Eli Lilly and Company (to develop a new
version of Insulet's OmniPod tubeless
insulin delivery system, specifically
designed to deliver Lilly's Humalog 200
units/mL insulin, with Lilly looking to revive
its diabetes sector by looking at devices.
This follows on from news in March
2018 when the US Food and Drug
Administration today permitted marketing
of the Dexcom G6 integrated continuous
glucose monitoring (iCGM) system for
determining blood glucose levels in
children aged two and older and adults
with diabetes. This is the first type of
continuous glucose monitoring system
permitted by the agency to be used as
part of an integrated system with other
compatible medical devices and electronic
interfaces, which may include automated
insulin dosing systems, insulin pumps,
blood glucose meters or other electronic
devices used for diabetes management.
The authorization also classifies this
new type of device in the FDA's Class II,
which subjects it to certain criteria called
special controls - this enables developers
of future iCGM systems to bring their
products to market more easily.
The iCGM class, and soon to follow
iPump class, are important as they start to
open the possibility of pick'n'mix sensor
and pump combinations.
continued over
The Animas pump from Lifescan has been
taken off the market globally. In the UK,
the company has some staff overseeing
pump users whose equipment is still under
warranty. There is an agreement in place
with Medtronic to oversee distribution of
supplies to existing Animas pump users.
As these pumps come out of warranty,
users can discuss options with their
HCP as to which of the (now quite many)
available insulin pumps is best for them
to move on to. If you have any questions,
call the Animas customer call centre UK:
0800-055-6606; Ireland:1800-812715.
Animas users continuity of care with
Medtronic: Animas insulin pump users
should continue to use the same contact
number to order supplies or to contact
technical support for questions about their
Animas insulin pump for the time being.
There is no obligation to switch to a
Medtronic insulin pump. The company
states, "We understand that when it
comes to your diabetes management
needs, your choice of partner is a very
personal decision. Please know that our
team is ready to support the continuity of
your care and diabetes therapy of your
choice. Selection of your next insulin
pump should be done in collaboration with
the healthcare professional responsible
for your diabetes care."
If you wish to be contacted by
Medtronic about your future therapy
options and information on our portfolio
of products, you can register your interest
by completing a CONTACT ME FORM
medtronic-diabetes.co.uk/animas
Update on Animas