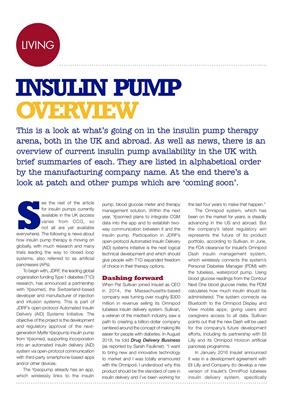 LIVINGLIVING
AN INSULIN PUMP OVE
This is a look at what's going on in the insulin pump therapy arena
abroad. As well as news, there is an overview of current insulin pu
the UK along with brief summaries of those pumps. The infusion sy
alphabetical order by the manufacturing company name. There is a
looking at patch pumps and other pumps which are 'coming soon'.
S
ee the rest of the article
for insulin pumps currently
available in the UK (access
varies from CCG, so
not all are yet available
everywhere). The following is news about
how insulin pump therapy is moving on
globally, with much research and many
trials leading the way to closed loop
systems, also referred to as artificial
pancreases (APs).
To begin with, JDRF, the leading global
organization funding Type 1 diabetes (T1D)
research, has announced a partnership
with Ypsomed, the Switzerland-based
developer and manufacturer of injection
and infusion systems. This is part of
JDRF's open-protocol Automated Insulin
Delivery (AID) Systems Initiative. The
objective of the project is the development
and regulatory approval of the nextgeneration Mylife Ypsopump
insulin pump
from Ypsomed, supporting incorporation
into an automated insulin delivery (AID)
system via open-protocol communication
with third-party smartphone-based apps
and/or other devices.
The Ypsopump already has an app,
which wirelessly links to the insulin
pump, blood glucose meter and therapy
management solution. Within the next
year, Ypsomed plans to integrate CGM
data into the app and to establish twoway communication between it and the