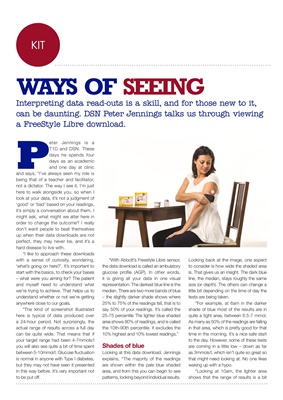 KIT
P
eter Jennings is a
T1D and DSN. These
days he spends four
days as an academic
and one day at clinic
and says, "I've always seen my role is
being that of a teacher and facilitator,
not a dictator. The way I see it, I'm just
here to walk alongside you, so when I
look at your data, it's not a judgment of
'good' or 'bad' based on your readings,
it's simply a conversation about them. I
might ask, what might we alter here in
order to change the outcome? I really
don't want people to beat themselves
up when their data downloads are not
perfect, they may never be, and it's a
hard disease to live with.
"I like to approach these downloads
with a sense of curiosity, wondering,
'what's going on here?'. It's important to
start with the basics, to check your bases
- what were you aiming for? The patient
and myself need to understand what
we're trying to achieve. That helps us to
understand whether or not we're getting
anywhere close to our goals.
"The kind of screenshot illustrated
here is typical of data produced over
a 24-hour period. Not surprisingly, the
actual range of results across a full day
can be quite wide. That means that if
your target range had been 4-7mmols/l
you will also see quite a bit of time spent
between 5-10mmol/l. Glucose fluctuation
is normal in anyone with Type I diabetes,
but they may not have seen it presented
in this way before. It's very important not
to be put off.
WAYS OF SEEING
Interpreting data read-outs is a skill, and for those new to it,
can be daunting. DSN and Type 1 diabetic Peter Jennings talks
us through viewing a FreeStyle Libre download.
"With Abbott's Freestyle Libre sensor,
the data download is called an ambulatory
glucose profile (AGP). In other words,
it is giving all your data in one visual
representation. The darkest blue line is the
median. There are two more bands of blue
- the slightly darker shade shows where
25% to 75% of the readings fall, that is to
say 50% of your readings. It's called the
25-75 percentile The lighter blue shaded
area shows 80% of readings, and is called
the 10th-90th percentile. It excludes the
10% highest and 10% lowest readings."
Shades of blue
Looking at this data download, Jennings
explains, "The majority of the readings
are shown within the pale blue shaded
area, and from this you can begin to see
patterns, looking beyond individual results.
Looking back at the image, one aspect
to consider is how wide the shaded area
is. That gives us an insight. The dark blue
line, the median, stays roughly the same
size (or depth). The others can change a
little bit depending on the time of day the
tests are being taken.
"For example, at 6am in the darker
shade of blue most of the results are in
quite a tight area, between 6.5-7 mmol.
As many as 50% of the readings are falling
in that area, which is pretty good for that
time in the morning. It's a nice safe start
to the day. However, some of these tests
are coming in a little low - down as far
as 3mmols/l, which isn't quite so great so
that might need looking at. No one likes
waking up with a hypo.
"Looking at 10am, the lighter area
shows that the range of results is a bit