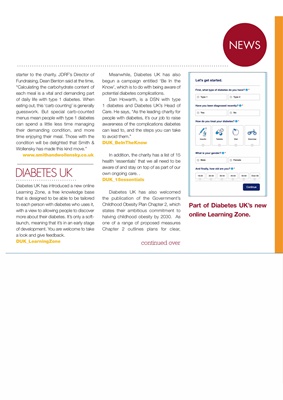 NEWS
starter to the charity. JDRF's Director of
Fundraising, Dean Benton said at the time,
"Calculating the carbohydrate content of
each meal is a vital and demanding part
of daily life with type 1 diabetes. When
eating out, this 'carb counting' is generally
guesswork. But special carb-counted
menus mean people with type 1 diabetes
can spend a little less time managing
their demanding condition, and more
time enjoying their meal. Those with the
condition will be delighted that Smith &
Wollensky has made this kind move."
DIABETES UK
Diabetes UK has introduced a new online
Learning Zone, a free knowledge base
that is designed to be able to be tailored
to each person with diabetes who uses it,
with a view to allowing people to discover
more about their diabetes. It's only a softlaunch, meaning that it's
in an early stage
of development. You are welcome to take
a look and give feedback.
DUK_LearningZone
Meanwhile, Diabetes UK has also
begun a campaign entitled 'Be In the
Know', which is to do with being aware of
potential diabetes complications.
Dan Howarth, is a DSN with type
1 diabetes and Diabetes UK's Head of
Care. He says, "As the leading charity for
people with diabetes, it's our job to raise
awareness of the complications diabetes
can lead to, and the steps you can take
to avoid them."
DUK_BeInTheKnow
In addition, the charity has a list of 15
health 'essentials' that we all need to be
aware of and stay on top of as part of our
own ongoing care. .
DUK_15essentials
Diabetes UK has also welcomed
the publication of the Government's
Childhood Obesity Plan Chapter 2, which
states their ambitious commitment to
halving childhood obesity by 2030. As
one of a range of proposed measures
Chapter 2 outlines plans for clear,
continued over
Part of Diabetes UK's new
online Learning Zone.