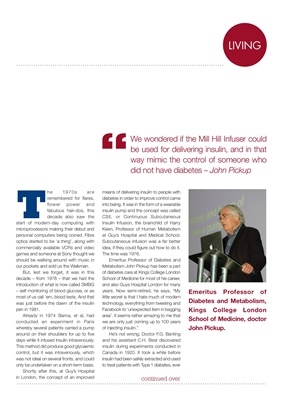 KITLIVING
continued over
We wondered if the Mill Hill Infuser could
be used for delivering insulin, and in that
way mimic the control of someone who
did not have diabetes - Pickup"
The 1970s are
remembered for flares,
flower power and
fabulous hair-dos, this
decade also saw the
start of modern-day computing with
microprocessors making their debut and
personal computers being coined. Fibre
optics started to be 'a thing', along with
commercially available VCRs and video
games and someone at Sony thought we
should be walking around with music in
our pockets and sold us the Walkman.
But, lest we forget, it was in this
decade - from 1978 - that we had the
introduction of what is now called SMBG
- self monitoring of blood glucose, or as
most of us call 'em, blood tests. And that
was just before the dawn of the insulin
pen in 1981.
Already in 1974 Slama, et al, had
conducted an experiment in Paris
whereby several patients carried a pump
around on their shoulders for up to five
days while it infused insulin intravenously.
This method did produce good glycaemic
control, but it was intravenously, which
was not ideal on several fronts, and could
only be undertaken on a short-term basis.
Shortly after this, at Guy's Hospital
in London, the concept of an improved
means of delivering insulin to people with
diabetes in order to improve control came
into being. It was in the form of a wearable
insulin pump and the concept was called
CSII, or Continuous Subcutaneous
Insulin Infusion, the brainchild of Harry
Keen, Professor of Human Metabolism
at Guy's Hospital and Medical School.
Subcutaneous infusion was a far better
idea, if they could figure out how to do it.
The time was 1976.
Emeritus Professor of Diabetes and
Metabolism John Pickup has been a part
of diabetes care at Kings College London
School of Medicine for most of his career,
and also Guys Hospital London for many
years. Now semi-retired, he says, "My
little secret is that I hate much of modern
technology, everything from tweeting and
Facebook to 'unexpected item in bagging
area'. It seems rather amazing to me that
we are only just coming up to 100 years
of injecting insulin."
He's not wrong; Doctor F.G. Banting
and his assistant C.H. Best discovered
insulin during experiments conducted in
Canada in 1920. It took a while before
insulin had been safely extracted and used
to treat patients with Type 1 diabetes, ever
Emeritus Professor of
Diabetes and Metabolism,
Kings College London
School of Medicine, doctor
John Pickup.