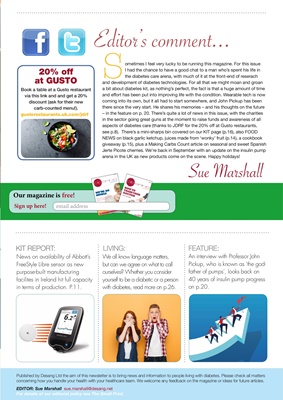 Published by Desang Ltd the aim of this newsletter is to bring news and information to people living with diabetes. Please check all matters
concerning how you handle your health with your healthcare team. We welcome any feedback on the magazine or ideas for future articles.
EDITOR: Sue Marshall sue.marshall@desang.net
For details of our editorial policy see The Small Print.
News on availability of Abbott's
FreeStyle Libre sensor as new
purpose-built manufacturing
facilites hit full capacity in terms
of production. P.11.
Sue Marshall
An interview with Professor John
Pickup, who is known as 'the godfather of pumps', looks back on
40 years of insulin pump progress
on p.18.
Sometimes I feel very lucky to be running this magazine. For this issue
I had the chance to have a good chat to a man who's spent his life in
the diabetes care arena, with much of it at the front-end of reserach
and development of diabetes technologies. For all that we might moan and groan
a bit about diabetes kit, as nothing's perfect, the fact is that a huge amount of time
and effort has been put into improving life with the condition. Wearable tech is now
coming into its own, but it all had to start somewhere, and John Pickup has been
there since the very start. He shares his memories - and his thoughts on the future
- in the feature on p. 18. There's quite a lot of news in this issue, with the charities
in the sector going great guns at the moment to raise funds and awareness of all
aspects of diabetes care (thanks to JDRF for the 20% off at Gusto restaurants, see
p.8). There's a mini-sharps bin covered on our KIT page (p.14), also food items on
black garlic ketchup, juices made from 'wonky' fruit (p. 12), a cookbook giveaway
(p.13), plus a Making Carbs Count article on seasonal and sweet Spanish Jerte
Picote cherries. We're back in September with an update on the insulin pump
arena in the UK as new products come on the scene. Happy holidays!
Editor's comment...
ISSUE 30
MAGAZINE
DESANG
PLUS • New Products • Groovy giveaways • News (for T1 and T2)
WE'RE NO
ANGELS
But business as usual is best for
diabetics at Christmas
MAKING
CARBS COUNT:
CHESTNUTS ROASTING
ON OPEN FIRES
Our magazine is free!
Sign up here! email address
LIVING:
We all know language matters,
but can we agree on what to call
ourselves? Whether you are diabetic
or a person with diabetes, turn to .
P.26 to find out more!
KIT REPORT: FEATURE:
r
Book a table at a Gusto restaurant
via this link and and get a 20%
discount (ask for their new
carb-counted menu!).
gustorestaurants.uk.com/jdrf
20% off
at GUSTO