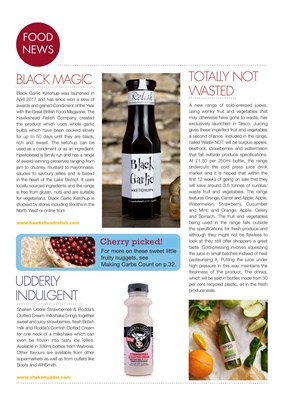 LIVINGLIVING
FOOD
NEWS
BLACK MAGIC
Black Garlic Ketchup was launched in
April 2017 and has since won a slew of
awards and gained Condiment of the Year
with the Great British Food Magazine, The
Hawkshead Relish Company created
the product which uses whole garlic
bulbs which have been cooked slowly
for up to 50 days until they are black,
rich and sweet. The ketchup can be
used as a condiment or as an ingredient.
Hawkshead is family run and has a range
of award-winning preserves ranging from
jam to chutney, mustard to mayonnaise,
sauces to savoury jellies and is based
in the heart of the Lake District. It uses
locally sourced ingredients and the range
is free from gluten, nuts and are suitable
for vegetarians. Black Garlic Ketchup is
stocked by stores including Booths in the
North West or online from
TOTALLY NOT
WASTED
A new range of cold-pressed juices,
using wonky fruit and vegetables that
may otherwise have gone to waste, has
exclusively launched in Tesco. Juicing
gives these imperfect fruit and vegetables
a second chance. Included in the range,
called Waste NOT, will be surplus apples,
beetroot, strawberries and watermelon
that fall outside produce specifications.
At £1.50 per 250ml bottle, the range
undercuts the cold press juice drink
market and it is hoped that within the
first 12 weeks of going on sale that they
will save around 3.5 tonnes of surplus/
waste fruit and vegetables. The range
features Orange, Carrot and Apple; Apple,
Watermelon, Strawberry, Cucumber
and Mint; and Orange, Apple, Celery
and Spinach. The fruit and vegetables
being used in the range falls outside
the specifications for fresh produce and
although they might not be flawless to
look at they still offer shoppers a great
taste. Cold-pressing involves squeezing
the juice in small batches instead of heat
pasteurising it. Putting the juice under
high pressure in this way maintains the
freshness of the product. The drinks,
which will be sold in bottles made from 30
per cent recycled plastic, sit in the fresh
produce aisle.
UDDERLY
INDULGENT
Shaken Udder Strawberries & Rodda's
Clotted Cream milkshake brings together
sweet and juicy strawberries, fresh British
milk and Rodda's Cornish Clotted Cream
for one heck of a milkshake which can
even be frozen into tasty ice lollies.
Available in 330ml bottles from Waitrose.
Other flavours are available from other
supermarkets as well as from outlets like
Boots and WHSmith.
Cherry picked!
For more on these sweet
little fruity nuggets, see Making Carbs Count on p.32