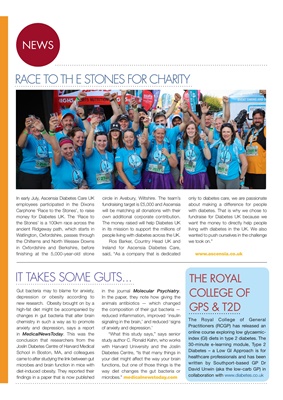 NEWS
RACE TO TH E STONES FOR CHARITY
IT TAKES SOME GUTS... THE ROYAL
COLLEGE OF
GPS & T2D
The Royal College of General
Practitioners (RCGP) has released an
online course exploring low glycaemicindex (GI) diets in type 2 diabetes. The
30-minute e-learning module, Type 2
Diabetes - a Low GI Approach is for
healthcare professionals and has been
written by Southport-based GP Dr
David Unwin (known as the low-carb
GP) in collaboration with diabetes.co.uk
Gut bacteria may to blame for anxiety,
depression or obesity according to
new research. Obesity brought on by a
high-fat diet might be accompanied by
changes in gut bacteria that alter brain
chemistry in such a way as to promote
anxiety and depression, says a report
in MedicalNewsToday. This was the
conclusion that researchers from the
Joslin Diabetes Centre of Harvard Medical
School in Boston, MA, and colleagues
came to after studying the link between gut
microbes and brain function in mice with
diet-induced obesity. They reported their
findings in a paper that is now published
In early July, Ascensia Diabetes Care UK
employees participated in the Dixons
Carphone 'Race to the Stones', to raise
money for Diabetes UK. The 'Race to
the Stones' is a 100km race across the
ancient Ridgeway path, which starts in
Watlington, Oxfordshire, passes through
the Chilterns and North Wessex Downs
in Oxfordshire and Berkshire, before
finishing at the 5,000-year-old stone
circle in Avebury, Wiltshire. The team's
fundraising target is £5,000 and Ascensia
will be matching all donations with their
own additional corporate contribution.
The money raised will help Diabetes UK
in its mission to support the millions of
people living with diabetes across the UK.
Ros Barker, Country Head UK and
Ireland for Ascensia Diabetes Care,
said, "As a company that is dedicated
only to diabetes care, we are passionate
about making a difference for people
with diabetes. That is why we chose to
fundraise for Diabetes UK because we
want the money to directly help people
living with diabetes in the UK. We also
wanted to push ourselves in the challenge
we took on."
in the journal Molecular Psychiatry.
In the paper, they note how giving the
animals antibiotics - which changed
the composition of their gut bacteria -
reduced inflammation, improved 'insulin
signaling in the brain,' and reduced 'signs
of anxiety and depression.'
"What this study says," says senior
study author C. Ronald Kahn, who works
with Harvard University and the Joslin
Diabetes Centre, "Is that many things in
your diet might affect the way your brain
functions, but one of those things is the
way diet changes the gut bacteria or
microbes." medicalnewstoday.com