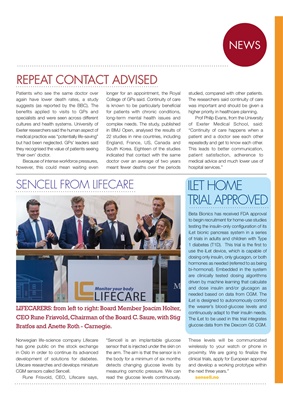 NEWS
SENCELL FROM LIFECARE
REPEAT CONTACT ADVISED
Patients who see the same doctor over
again have lower death rates, a study
suggests (as reported by the BBC). The
benefits applied to visits to GPs and
specialists and were seen across different
cultures and health systems. University of
Exeter researchers said the human aspect of
medical practice was "potentially life-saving"
but had been neglected. GPs' leaders said
they recognised the value of patients seeing
'their own' doctor.
Because of intense workforce pressures,
however, this could mean waiting even
longer for an appointment, the Royal
College of GPs said. Continuity of care
is known to be particularly beneficial
for patients with chronic conditions,
long-term mental health issues and
complex needs. The study, published
in BMJ Open, analysed the results of
22 studies in nine countries, including
England, France, US, Canada and
South Korea. Eighteen of the studies
indicated that contact with the same
doctor over an average of two years
meant fewer deaths over the periods
Norwegian life-science company Lifecare
has gone public on the stock exchange
in Oslo in order to continue its advanced
development of solutions for diabetes.
Lifecare researches and develops miniature
CGM sensors called Sencell.
Rune Frisvold, CEO, Lifecare says,
"Sencell is an implantable glucose
sensor that is injected under the skin on
the arm. The aim is that the sensor is in
the body for a minimum of six months
detects changing glucose levels by
measuring osmotic pressure. We can
read the glucose levels continuously.
These levels will be communicated
wirelessly to your watch or phone in
proximity. We are going to finalize the
clinical trials, apply for European approval
and develop a working prototype within
the next three years."
sensell.no
LIFECARERS: from left to right: Board Member Joacim Holter,
CEO Rune Frisvold, Chairman of the Board C. Saure, with Stig
Bratfos and Anette Roth - Carnegie.
studied, compared with other patients.
The researchers said continuity of care
was important and should be given a
higher priority in healthcare planning.
Prof Philip Evans, from the University
of Exeter Medical School, said:
"Continuity of care happens when a
patient and a doctor see each other
repeatedly and get to know each other.
This leads to better communication,
patient satisfaction, adherence to
medical advice and much lower use of
hospital services."
Beta Bionics has received FDA approval
to begin recruitment for home-use studies
testing the insulin-only configuration of its
iLet bionic pancreas system in a series
of trials in adults and children with Type
1 diabetes (T1D). This trial is the first to
use the iLet device, which is capable of
dosing only insulin, only glucagon, or both
hormones as needed (referred to as being
bi-hormonal). Embedded in the system
are clinically tested dosing algorithms
driven by machine learning that calculate
and dose insulin and/or glucagon as
needed based on data from CGM. The
iLet is designed to autonomously control
the wearer's blood-glucose levels and
continuously adapt to their insulin needs.
The iLet to be used in this trial integrates
glucose data from the Dexcom G5 CGM.
ILET HOME
TRIAL APPROVED