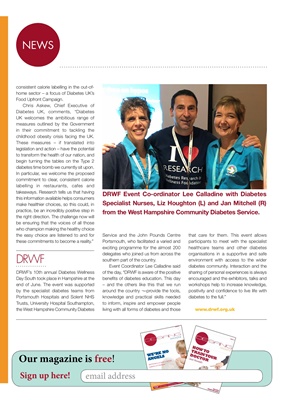 NEWS
ISSUE 30
MAGAZINE
DESANG
PLUS • New Products • Groovy giveaways • News (for T1 and T2)
WE'RE NO
ANGELS
But business as usual is best for
diabetics at Christmas
MAKING
CARBS COUNT:
CHESTNUTS ROASTING
ON OPEN FIRES
Our magazine is free!
Sign up here! email address
consistent calorie labelling in the out-ofhome
sector - a focus of Diabetes UK's
Food Upfront Campaign.
Chris Askew, Chief Executive of
Diabetes UK, comments, "Diabetes
UK welcomes the ambitious range of
measures outlined by the Government
in their commitment to tackling the
childhood obesity crisis facing the UK.
These measures - if translated into
legislation and action - have the potential
to transform the health of our nation, and
begin turning the tables on the Type 2
diabetes time bomb we currently sit upon.
In particular, we welcome the proposed
commitment to clear, consistent calorie
labelling in restaurants, cafes and
takeaways. Research tells us that having
this information available helps consumers
make healthier choices, so this could, in
practice, be an incredibly positive step in
the right direction. The challenge now will
be ensuring that the voices of all those
who champion making the healthy choice
the easy choice are listened to and for
these commitments to become a reality."
DRWF Event Co-ordinator Lee Calladine with Diabetes
Specialist Nurses, Liz Houghton (L) and Jan Mitchell (R)
from the West Hampshire Community Diabetes Service.
DRWF
DRWF's 10th annual Diabetes Wellness
Day South took place in Hampshire at the
end of June. The event was supported
by the specialist diabetes teams from
Portsmouth Hospitals and Solent NHS
Trusts, University Hospital Southampton,
the West Hampshire Community Diabetes
Service and the John Pounds Centre
Portsmouth, who facilitated a varied and
exciting programme for the almost 200
delegates who joined us from across the
southern part of the country.
Event Coordinator Lee Calladine said
of the day, "DRWF is aware of the positive
benefits of diabetes education. This day
- and the others like this that we run
around the country ¬-provide the tools,
knowledge and practical skills needed
to inform, inspire and empower people
living with all forms of diabetes and those
that care for them. This event allows
participants to meet with the specialist
healthcare teams and other diabetes
organisations in a supportive and safe
environment with access to the wider
diabetes community. Interaction and the
sharing of personal experiences is always
encouraged and the exhibitors, talks and
workshops help to increase knowledge,
positivity and confidence to live life with
diabetes to the full."