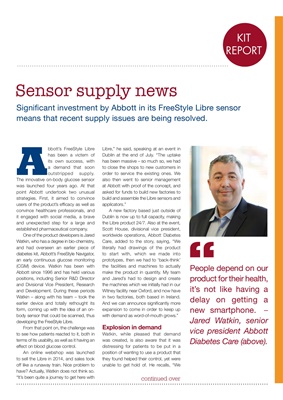 NEWS
KIT
REPORT
Significant investment by Abbott in its FreeStyle Libre sensor
means that recent supply issues are being resolved.
Abbott's FreeStyle Libre
has been a product of
its own success, with
a demand that soon
outstripped supply.
The innovate blood glucose sensor
was launched four years ago. At that
point Abbott undertook two unusual
strategies. First, it aimed to convince
users of the product's efficacy as well as
convince healthcare professionals, and
it engaged with social media, a brave
and unexpected step for a large and
established pharmaceutical company.
British based product manager
Jared Watkin, who has a degree in biochemistry,
had overseen an earlier piece of
diabetes kit, Abbott's FreeStyle Navigator,
an early continuous glucose monitoring
(CGM) device. Watkin has been with
Abbott since 1996 and has held various
positions, including Senior R&D Director
and Divisional Vice President, Research
and Development. During these periods he
took the earlier device and totally rethought
its form, coming up with the idea of an onbody sensor that could be scanned, thus
developing the FreeStyle Libre.
From that point on, the challenge was
to see how patients reacted to it, both in
terms of its usability, as well as it having an
effect on blood glucose control.
An online webshop was launched
to sell the Libre in 2014, and sales took
off like a runaway train. Nice problem to
have? Actually, Watkin does not think so.
"It's been quite a journey to get here with
Libre," he said, speaking at an event in
Sensor supply news
Dublin at the end of July. "The uptake
has been massive - so much so, we had
to close the shops to new customers in
order to service the existing ones. We
also then went to senior management
at Abbott with proof of the concept, and
asked for funds to build new factories to
build and assemble the Libre sensors and
applicators."
A new factory based just outside of
Dublin is now up to full capacity, making
the Libre product 24/7. Also at the event,
Steve House, divisional vice president,
worldwide operations, Abbott Diabetes
Care, added to the story, saying, "We
literally had drawings of the product
to start with, which we made into
prototypes, then we had to 'back-think'
the facilities and machines to actually
make the product in quantity. My team
and Jared's had to design and create
the machines which we initially had in our
Witney facility near Oxford, and now have
in two factories, both based in Ireland.
And we can announce significantly more
expansion to come in order to keep up
with demand as word-of-mouth grows."
Explosion in demand
Watkin, while pleased that demand
was created, is also aware that it was
distressing for patients to be put in a
position of wanting to use a product that
they found helped their control, yet were
unable to get hold of. He recalls, "We
initially launched in seven countries in
continued over
People depend on our
product for their health,
it's not like having a
delay on getting a
new smartphone. -
Jared Watkin, senior
vice president Abbott
Diabetes Care
"