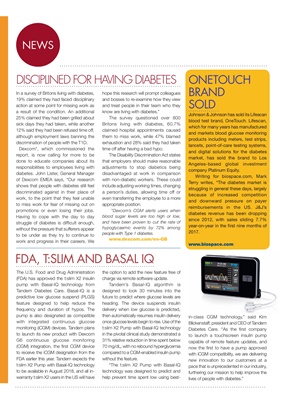 NEWS
DISCIPLINED FOR HAVING DIABETES
FDA, T:SLIM AND BASAL IQ
ONETOUCH
BRAND
SOLD
The U.S. Food and Drug Administration
(FDA) has approved the t:slim X2 insulin
pump with Basal-IQ technology from
Tandem Diabetes Care. Basal-IQ is a
predictive low glucose suspend (PLGS)
feature designed to help reduce the
frequency and duration of hypos. The
pump is also designated as compatible
with integrated continuous glucose
monitoring (iCGM) devices. Tandem plans
to launch its new product with Dexcom
G6 continuous glucose monitoring
(CGM) integration, the first CGM device
to receive the iCGM designation from the
FDA earlier this year. Tandem expects the
t:slim X2 Pump with Basal-IQ technology
to be available in August 2018, and all inwarranty t:slim X2 users in the US will have
Johnson & Johnson has sold its Lifescan
blood test brand, OneTouch. Lifescan,
which for many years has manufactured
and markets blood glucose monitoring
products including meters, test strips,
lancets, point-of-care testing systems,
and digital solutions for the diabetes
market, has sold the brand to Los
Angeles-based global investment
company Platinum Equity.
Writing for biospace.com, Mark
Terry writes, "The diabetes market is
struggling in general these days, largely
because of increased competition
and downward pressure on payer
reimbursements in the US. J&J's
diabetes revenue has been dropping
since 2012, with sales sliding 7.7%
year-on-year in the first nine months of
2017.
In a survey of Britons living with diabetes,
19% claimed they had faced disciplinary
action at some point for missing work as
a result of the condition. An additional
25% claimed they had been grilled about
sick days they had taken, while another
12% said they had been refused time off,
although employment laws banning the
discrimination of people with the T1D.
Dexcom*, which commissioned the
report, is now calling for more to be
done to educate companies about its
responsibilities to employees living with
diabetes. John Lister, General Manager
of Dexcom EMEA says, "Our research
shows that people with diabetes still feel
discriminated against in their place of
work, to the point that they feel unable
to miss work for fear of missing out on
promotions or even losing their jobs.
Having to cope with the day to day
struggle of diabetes is difficult enough,
without the pressure that sufferers appear
to be under as they try to continue to
work and progress in their careers. We
hope this research will prompt colleagues
and bosses to re-examine how they view
and treat people in their team who they
know are living with diabetes."
The survey questioned over 800
Britons living with diabetes, 60.7%
claimed hospital appointments caused
them to miss work, while 47% blamed
exhaustion and 28% said they had taken
time off after having a bad hypo.
The Disability Discrimination Act states
that employers should make reasonable
adjustments to stop diabetics being
disadvantaged at work in comparison
with non-diabetic workers. These could
include adjusting working times, changing
a person's duties, allowing time off or
even transferring the employee to a more
appropriate position.
*Dexcom's CGM alerts users when
blood sugar levels are too high or low,
and have been proven to cut the rate of
hypoglycaemic events by 72% among
people with Type 1 diabetes.
the option to add the new feature free of
charge via remote software update.
Tandem's Basal-IQ algorithm is
designed to look 30 minutes into the
future to predict where glucose levels are
heading. The device suspends insulin
delivery when low glucose is predicted,
then automatically resumes insulin delivery
once glucose levels begin to rise. Use of the
t:slim X2 Pump with Basal-IQ technology
in the pivotal clinical study demonstrated a
31% relative reduction in time spent below
70 mg/dL, with no rebound hyperglycemia
compared to a CGM-enabled insulin pump
without the feature.
"The t:slim X2 Pump with Basal-IQ
technology was designed to predict and
help prevent time spent low using bestin-class CGM technology,"
said Kim
Blickenstaff, president and CEO of Tandem
Diabetes Care. "As the first company
to launch a touchscreen insulin pump
capable of remote feature updates, and
now the first to have a pump approved
with iCGM compatibility, we are delivering
new innovation to our customers at a
pace that is unprecedented in our industry,
furthering our mission to help improve the
lives of people with diabetes."