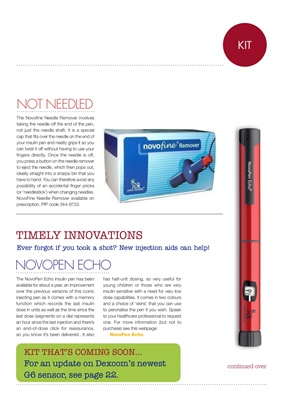 KIT
NOT NEEDLED
continued over
The Novofine Needle Remover involves
taking the needle off the end of the pen,
not just the needle shaft. It is a special
cap that fits over the needle on the end of
your insulin pen and neatly grips it so you
can twist it off without having to use your
fingers directly. Once the needle is off,
you press a button on the needle remover
to eject the needle, which then pops out,
ideally straight into a sharps bin that you
have to hand. You can therefore avoid any
possibility of an accidental finger pricks
(or 'needlestick') when changing needles.
NovoFine Needle Remover available on
prescription, PIP code 344-9733.
NOVOPEN ECHO
The NovoPen Echo insulin pen has been
available for about a year, an improvement
over the previous versions of this iconic
injecting pen as it comes with a memory
function which records the last insulin
dose in units as well as the time since the
last dose (segments on a dial represents
an hour since the last injection and there's
an end-of-dose click for reassurance,
so you know it's been delivered.. It also
TIMELY INNOVATIONS
Ever forgot if you took a shot? New injection aids can help!
has half-unit dosing, so very useful for
young children or those who are very
insulin sensitive with a need for very low
dose capabilities. It comes in two colours
and a choice of 'skins' that you can use
to peronalise the pen if you wish. Speak
to your healthcare professional to request
one. For more information (but not to
purchase) see this webpage:
NovoPen Echo.
KIT THAT'S COMING SOON...
For an update on Dexcom's newest
G6 sensor, see page 20.