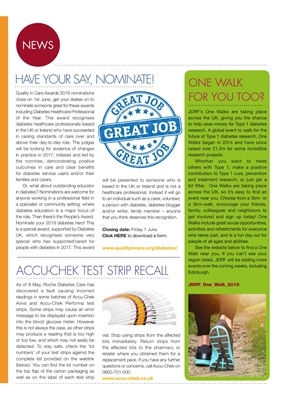 NEWS
HAVE YOUR SAY, NOMINATE!
ACCU-CHEK TEST STRIP RECALL
ONE WALK
FOR YOU TOO?
JDRF's One Walks are taking place
across the UK, giving you the chance
to help raise money for Type 1 diabetes
research. A global event to walk for the
future of Type 1 diabetes research, One
Walks began in 2014 and have since
raised over £1.3m for some incredible
research projects.
Whether you want to meet
others with Type 1, make a positive
contribution to Type 1 cure, prevention
and treatment research, or just get a
bit fitter, One Walks are taking place
across the UK, so it's easy to find an
event near you. Choose from a 3km- or
a 5km-walk, encourage your friends,
family, colleagues and neighbours to
get involved and sign up today! One
Walks include great social opportunities,
activities and refreshments for everyone
who takes part, and is a fun day out for
people of all ages and abilities.
See the website below to find a One
Walk near you. If you can't see your
region listed, JDRF will be adding more
events over the coming weeks, including
Edinburgh.
JDRF_One_Walk_2018
As of 9 May, Roche Diabetes Care has
discovered a fault causing incorrect
readings in some batches of Accu-Chek
Aviva and Accu-Chek Performa test
strips. Some strips may cause an error
message to be displayed upon insertion
into the blood glucose meter. However
this is not always the case, as other strips
may produce a reading that is too high
or too low, and which may not easily be
detected. To stay safe, check the 'lot
numbers' of your test strips against the
complete list provided on the weblink
(below). You can find the lot number on
the top flap of the carton packaging as
well as on the label of each test strip
vial. Stop using strips from the affected
lots immediately. Return strips from
the affected lots to the pharmacy or
retailer where you obtained them for a
replacement pack. If you have any further
questions or concerns, call Accu-Chek on
0800-701-000.
accu-chek.co.uk
Quality in Care Awards 2018 nominations
close on 1st June, get your skates on to
nominate someone great for these awards
including Diabetes Healthcare Professional
of the Year. This award recognises
diabetes healthcare professionals based
in the UK or Ireland who have succeeded
in raising standards of care over and
above their day-to-day role. The judges
will be looking for evidence of changes
in practice in 2017, initiated and led by
the nominee, demonstrating positive
outcomes in care and clear benefits
for diabetes service users and/or their
families and carers.
Or, what about outstanding educator
in diabetes? Nominations are welcome for
anyone working in a professional field in
a specialist or community setting, where
diabetes education is a major focus of
the role. Then there's the People's Award.
Nominate your 2018 diabetes hero! This
is a special award, supported by Diabetes
UK, which recognises someone very
special who has supported/cared for
people with diabetes in 2017. This award
will be presented to someone who is
based in the UK or Ireland and is not a
healthcare professional. Instead it will go
to an individual such as a carer, volunteer,
a person with diabetes, diabetes blogger
and/or writer, family member - anyone
that you think deserves this recognition.
Click HERE To download a form.