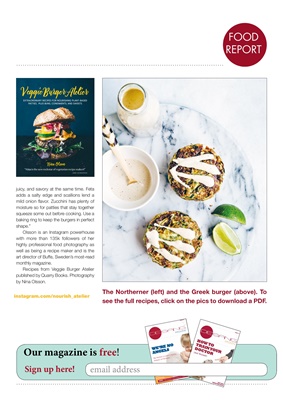 KITLIVING
juicy, and savory at the same time. Feta
adds a salty edge and scallions lend a
mild onion flavor. Zucchini has plenty of
moisture so for patties that stay together
squeeze some out before cooking. Use a
baking ring to keep the burgers in perfect
shape."
Olsson is an Instagram powerhouse
with more than 135k followers of her
highly professional food photography as
well as being a recipe maker and is the
art director of Buffe, Sweden's most-read
monthly magazine.
Recipes from Veggie Burger Atelier
published by Quarry Books. Photography
by Nina Olsson.
FOOD
REPORT
ISSUE 30
MAGAZINE
DESANG
PLUS • New Products • Groovy giveaways • News (for T1 and T2)
WE'RE NO
ANGELS
But business as usual is best for
diabetics at Christmas
MAKING
CARBS COUNT:
CHESTNUTS ROASTING
ON OPEN FIRES
Our magazine is free!
Sign up here! email address
instagram.com/nourish_atelier
The Northerner (left) and the Greek burger (above). To
see the full recipes, click on the pics to download a PDF.