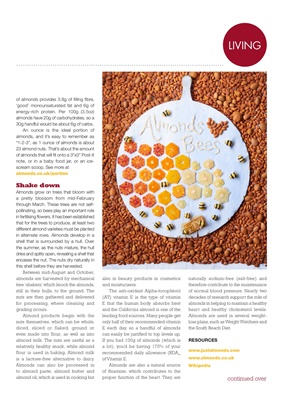 KITLIVING
continued over
fibre, 'good' monounsaturated fat and 6g
of energy-rich protein. Per 100g (3.5oz)
almonds have 20g of carbohydrates, so a
30g handful would be about 6g of carbs.
An ounce is the ideal portion of
almonds, and it's easy to remember as
"1-2-3", as 1 ounce of almonds is about
23 almond nuts. That's about the amount
of almonds that will fit onto a 3"x3" Post-It
note, or in a baby food jar, or an icescream
scoop. See more at
almonds.co.uk/portion
Shake down
Almonds grow on trees that bloom with
a pretty blossom from mid-February
through March. These trees are not selfpollinating, so bees play an important role
in fertilising flowers. It has been established
that for the trees to produce, at least two
different almond varieties must be planted
in alternate rows. Almonds develop in a
shell that is surrounded by a hull. Over
the summer, as the nuts mature, the hull
dries and splits open, revealing a shell that
encases the nut. The nuts dry naturally in
this shell before they are harvested.
Between mid-August and October,
almonds are harvested by mechanical
tree 'shakers,' which knock the almonds,
still in their hulls, to the ground. The
nuts are then gathered and delivered
for processing, where cleaning and
grading occurs.
Almond products begin with the
nuts themselves, which can be whole,
diced, sliced or flaked, ground or
even made into flour, as well as into
almond milk. The nuts are useful as a
relatively healthy snack, while almond
flour is used in baking. Almond milk
is a lactose-free alternative to dairy.
Almonds can also be processed in
to almond paste, almond butter and
almond oil, which is used in cooking but
also in beauty products in cosmetics
and moisturisers.
The anti-oxidant Alpha-tocopherol
(AT) vitamin E is the type of vitamin
E that the human body absorbs best
and the California almond is one of the
leading food sources. Many people get
only half of their recommended vitamin
E each day, so a handful of almonds can
easily be justified to top levels up. If you
had 100g of almonds (which is quite a
lot), you'd be having 175% of your RDA
of Vitamin E.
Almonds are also a natural source
of thiamine, which contributes to the
proper function of the heart. They are
naturally sodium-free (salt-free) and
therefore contribute to the maintenance
of normal blood pressure. Nearly two
decades of research support the role of
almonds in helping to maintain a healthy
heart and healthy cholesterol levels.
Almonds are used in several weightloss plans,
such as Weight Watchers and
the South Beach Diet.
RESOURCES