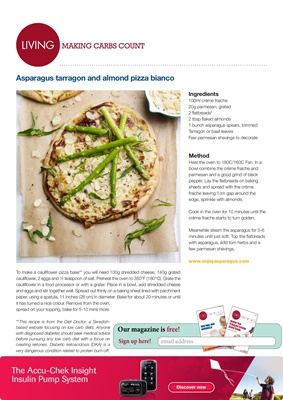 LIVINGLIVING
Asparagus tarragon and almond pizza bianco
Ingredients
100ml crème fraiche
20g parmesan, grated
2 flatbreads*
2 tbsp flaked almonds
1 bunch asparagus spears, trimmed
Tarragon or basil leaves
Few parmesan shavings to decorate
MAKING CARBS COUNT
Method
Heat the oven to 180C/160C Fan. In a
bowl combine the crème fraiche and
parmesan and a good grind of black
pepper. Lay the flatbreads on baking
sheets and spread with the crème
fraiche leaving 1cm gap around the
edge, sprinkle with almonds.
Cook in the oven for 10 minutes until the
crème fraiche starts to turn golden.
Meanwhile steam the asparagus for 5-6
minutes until just soft. Top the flatbreads
with asparagus, add torn herbs and a
few parmesan shavings.
ISSUE 30
MAGAZINE
DESANG
PLUS • New Products • Groovy giveaways • News (for T1 and T2)
WE'RE NO
ANGELS
But business as usual is best for
diabetics at Christmas
MAKING
CARBS COUNT:
CHESTNUTS ROASTING
ON OPEN FIRES
Our magazine is free!
Sign up here! email address
To make a cauliflower pizza base** you will need 100g shredded cheese, 140g grated
cauliflower, 2 eggs and ½ teaspoon of salt. Preheat the oven to 350°F (180°C). Grate the
cauliflower in a food processor or with a grater. Place in a bowl, add shredded cheese
and eggs and stir together well. Spread out thinly on a baking sheet lined with parchment
paper, using a spatula, 11 inches (28 cm) in diameter. Bake for about 20 minutes or until
it has turned a nice colour. Remove from the oven,
spread on your topping, bake for 5-10 mins more.
**This recipe is from the Diet Doctor, a Swedishbased website focusing on low carb diets. Anyone
with diagnosed diabetes should seek medical advice
before pursuing any low carb diet with a focus on
creating ketones. Diabetic ketoacidosis (DKA) is a
very dangerous condition related to protein burn-off.