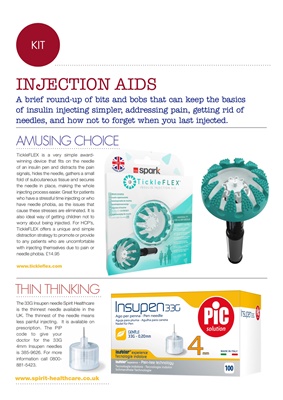 KIT
AMUSING CHOICE
THIN THINKING
INJECTION AIDS
A brief round-up of bits and bobs that can keep the basics
of insulin injecting simpler, addressing pain, getting rid of
needles, and how not to forget when you last injected.
TickleFLEX is a very simple awardwinning device
that fits on the needle
of an insulin pen and distracts the pain
signals, hides the needle, gathers a small
fold of subcutaneous tissue and secures
the needle in place, making the whole
injecting process easier. Great for patients
who have a stressful time injecting or who
have needle phobia, as the issues that
cause these stresses are eliminated. It is
also ideal way of getting children not to
worry about being injected. For HCP's,
TickleFLEX offers a unique and simple
distraction strategy to promote or provide
to any patients who are uncomfortable
with injecting themselves due to pain or
needle phobia. £14.95
The 33G Insupen needle Spirit Healthcare
is the thinnest needle available in the
UK. The thinnest of the needle means
less painful injecting. It is available on
prescription. The PIP
code to give your
doctor for the 33G
4mm Insupen needles
is 385-9626. For more
information call 0800-
881-5423.