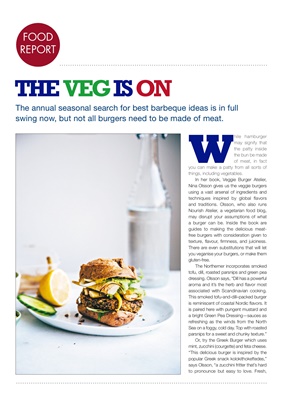 LIVINGLIVING
FOOD
REPORT
While hamburger
may signify that
the patty inside
the bun be made
of meat, in fact
you can make a patty from all sorts of
things, including vegetables.
In her book, Veggie Burger Atelier,
Nina Olsson gives us the veggie burgers
using a vast arsenal of ingredients and
techniques inspired by global flavors
and traditions. Olsson, who also runs
Nourish Atelier, a vegetarian food blog,
may disrupt your assumptions of what
a burger can be. Inside the book are
guides to making the delicious meatfree
burgers with consideration given to
texture, flavour, firmness, and juiciness.
There are even substitutions that will let
you veganise your burgers, or make them
gluten-free.
The Northerner incorporates smoked
tofu, dill, roasted parsnips and green pea
dressing. Olsson says, "Dill has a powerful
aroma and it's the herb and flavor most
associated with Scandinavian cooking.
This smoked tofu-and-dill-packed burger
is reminiscent of coastal Nordic flavors. It
is paired here with pungent mustard and
a bright Green Pea Dressing-sauces as
refreshing as the winds from the North
Sea on a foggy, cold day. Top with roasted
parsnips for a sweet and chunky texture."
Or, try the Greek Burger which uses
mint, zucchini (courgette) and feta cheese.
"This delicious burger is inspired by the
popular Greek snack kolokithokeftedes,"
says Olsson, "a zucchini fritter that's hard
to pronounce but easy to love. Fresh,
THE VEG IS ON
The annual seasonal search for best barbeque ideas is in full
swing now, but not all burgers need to be made of meat.