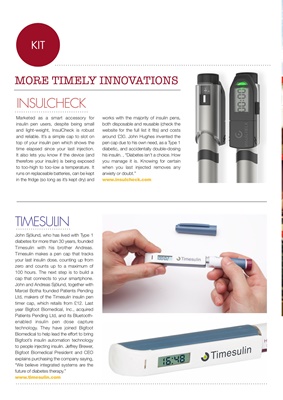 KIT
Marketed as a smart accessory for
insulin pen users, despite being small
and light-weight, InsulCheck is robust
and reliable. It's a simple cap to slot on
top of your insulin pen which shows the
time elapsed since your last injection.
It also lets you know if the device (and
therefore your insulin) is being exposed
to too-high to too-low a temperature. It
runs on replaceable batteries, can be kept
in the fridge (so long as it's kept dry) and
INSULCHECK
works with the majority of insulin pens,
both disposable and reusable (check the
website for the full list it fits) and costs
around £30. John Hughes invented the
pen cap due to his own need, as a Type 1
diabetic, and accidentally double-dosing
his insulin. , "Diabetes isn't a choice. How
you manage it is. Knowing for certain
when you last injected removes any
anxiety or doubt."
TIMESULIN
MORE TIMELY INNOVATIONS
John Sjölund, who has lived with Type 1
diabetes for more than 30 years, founded
Timesulin with his brother Andreas.
Timesulin makes a pen cap that tracks
your last insulin dose, counting up from
zero and counts up to a maximum of
100 hours. The next step is to build a
cap that connects to your smartphone.
John and Andreas Sjölund, together with
Marcel Botha founded Patients Pending
Ltd, makers of the Timesulin insulin pen
timer cap, which retails from £12. Last
year Bigfoot Biomedical, Inc., acquired
Patients Pending Ltd, and its Bluetoothenabled insulin pen dose capture
technology. They have joined Bigfoot
Biomedical to help lead the effort to bring
Bigfoot's insulin automation technology
to people injecting insulin. Jeffrey Brewer,
Bigfoot Biomedical President and CEO
explains purchasing the company saying,
"We believe integrated systems are the
future of diabetes therapy."