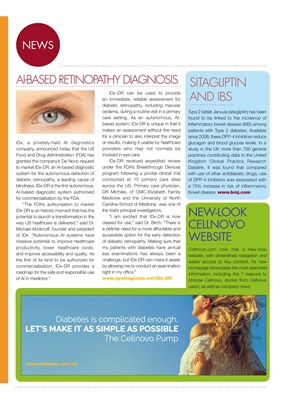 NEWS
AI-BASED RETINOPATHY DIAGNOSIS SITAGLIPTIN
AND IBS
Type 2 tablet Januvia (sitagliptin) has been
found to be linked to the incidence of
inflammatory bowel disease (IBS) among
patients with Type 2 diabetes. Available
since 2006, these DPP-4 inhibitors reduce
glucagon and blood glucose levels. In a
study in the UK more than 700 general
practices contributing data to the United
Kingdom Clinical Practice Research
Datalink. It was found that compared
with use of other antidiabetic drugs, use
of DPP-4 inhibitors was associated with
a 75% increase in risk of inflammatory
bowel disease. www.bmj.com
IDx, a privately-held AI diagnostics
company, announced today that the US
Food and Drug Administration (FDA) has
granted the company's De Novo request
to market IDx-DR, an AI-based diagnostic
system for the autonomous detection of
diabetic retinopathy, a leading cause of
blindness. IDx-DR is the first autonomous,
AI-based diagnostic system authorised
for commercialisation by the FDA.
"The FDA's authorisation to market
IDx-DR is an historic moment that has the
potential to launch a transformation in the
way US healthcare is delivered," said Dr.
Michael Abràmoff, founder and president
of IDx. "Autonomous AI systems have
massive potential to improve healthcare
productivity, lower healthcare costs,
and improve accessibility and quality. As
the first of its kind to be authorized for
commercialisation, IDx-DR provides a
roadmap for the safe and responsible use
of AI in medicine."
IDx-DR can be used to provide
an immediate, reliable assessment for
diabetic retinopathy, including macular
oedema, during a routine visit in a primary
care setting. As an autonomous, AIbased system, IDx-DR is unique in that it
makes an assessment without the need
for a clinician to also interpret the image
or results, making it usable by healthcare
providers who may not normally be
involved in eye care.
IDx-DR received expedited review
under the FDA's Breakthrough Devices
program following a pivotal clinical trial
conducted at 10 primary care sites
across the US. Primary care physician,
DR Michele, of CMC-Elizabeth Family
Medicine and the University of North
Carolina School of Medicine, was one of
the trial's principal investigators.
"I am excited that IDx-DR is now
cleared for use," said Dr. Birch. "There is
a definite need for a more affordable and
accessible option for the early detection
of diabetic retinopathy. Making sure that
my patients with diabetes have annual
eye examinations has always been a
challenge, but IDx-DR can make it easier
by allowing me to conduct an examination
right in my office."
Cellnovo.com now has a new-look
website, with streamlined navigation and
easier access to key content. Its new
homepage showcases the most searched
information, including the 7 reasons to
choose Cellnovo, stories from Cellnovo
users, as well as company news.
NEW-LOOK
CELLNOVO
WEBSITE