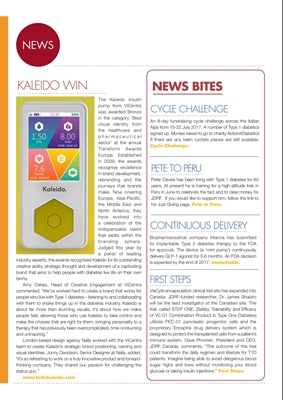 NEWS
The Kaleido insulin
pump from ViCentra
was awarded Bronze
in the category 'Best
visual identity from
the healthcare and
pharmaceutical
sector' at the annual
Transform Awards
Europe. Established
in 2009, the awards
recognise excellence
in brand development,
rebranding and the
journeys that brands
make. Now covering
Europe, Asia-Pacific,
the Middle East and
North America, they
have evolved into
a celebration of the
indispensable talent
that exists within the
branding sphere.
Judged this year by
a panel of leading
industry experts, the awards recognised Kaleido for its outstanding
creative ability, strategic thought and development of a captivating
brand that aims to help people with diabetes live life on their own
terms.
Amy Oakes, Head of Creative Engagement at ViCentra
commented, "We've worked hard to create a brand that works for
people who live with Type 1 diabetes - listening to and collaborating
with them to shake things up in the diabetes industry. Kaleido is
about far more than stunning visuals, it's about how we make
people feel, allowing those who use Kaleido to take control and
make the choices that are right for them, bringing personality to a
therapy that has previously been overcomplicated, time-consuming
and uninspiring."
London-based design agency Nalla worked with the ViCentra
team to create Kaleido's strategic brand positioning, naming and
visual identities. Jonny Davidson, Senior Designer at Nalla, added,
"It's so refreshing to work on a truly innovative product and forwardthinking company.
They shared our passion for challenging the
status quo."
Read more in our Pump Update Feature on p.
KALEIDO WIN
PETE TO PERU
An 8-day fundraising cycle challenge across the Italian
Alps from 15-22 July 2017. A number of Type 1 diabetics
signed up. Monies raised to go to charity Action4Diabetics
If there are any keen cyclists places are still available.
Cycle Challenge.
CYCLE CHALLENGE
Peter Davies has been living with Type 1 diabetes for 60
years. At present he is training for a high-altitude trek in
Peru in June to celebrate the fact and to raise money for
JDRF. If you would like to support him, follow the link to
his Just Giving page. Pete in Peru.
CONTINUOUS DELIVERY
Biopharmaceutical company Intarcia has submitted
its implantable Type 2 diabetes therapy to the FDA
for approval. The device (a 'mini pump') continuously
delivers GLP-1 agonist for 3-6 months. An FDA decision
is expected by the end of 2017. Implantable.
FIRST STEPS
ViaCyte encapsulation clinical trial site has expanded into
Canada. JDRF-funded researcher, Dr. James Shapiro
will be the lead investigator at the Canadian site. The
trial, called STEP ONE, (Safety, Tolerability and Efficacy
of VC-01 Combination Product in Type One Diabetes)
utilizes PEC-01 pancreatic progenitor cells and the
proprietary Encaptra drug delivery system which is
designed to protect the transplanted cells from a patient's
immune system. Dave Prowten, President and CEO,
JDRF Canada, comments, "The outcome of this trial
could transform the daily regimen and lifestyle for T1D
patients. Imagine being able to avoid dangerous blood
sugar highs and lows without monitoring your blood
glucose or taking insulin injections." First Steps.
NEWS BITES