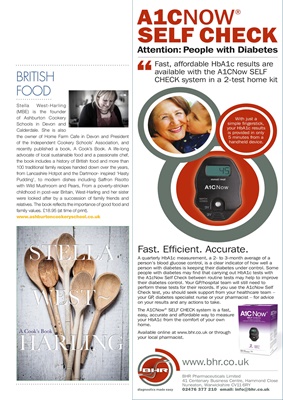 BRITISH
FOOD
Stella West-Harling
(MBE) is the founder
of Ashburton Cookery
Schools in Devon and
Calderdale. She is also
the owner of Home Farm Cafe in Devon and President
of the Independent Cookery Schools' Association, and
recently published a book, A Cook's Book. A life-long
advocate of local sustainable food and a passionate chef,
the book includes a history of British food and more than
100 traditional family recipes handed down over the years,
from Lancashire Hotpot and the Dartmoor- inspired 'Hasty
Pudding', to modern dishes including Saffron Risotto
with Wild Mushroom and Pears, From a poverty-stricken
childhood in post-war Britain, West-Harling and her sister
were looked after by a succession of family friends and
relatives. The book reflects the importance of good food and
family values. £18.95 (at time of print).
www.ashburtoncookeryschool.co.uk
BHR Pharmaceuticals Limiteinfo@bhr.co.uktenary Business Centre, Hammond Close
Nuneaton, Warwickshire CV11 6RY
02476 377 210 email: info@bhr.co.uk
A1CNOW®
SELF CHECK
Attention: People with Diabetes
Fast, affordable HbA1c results are
available with the A1CNow SELF
CHECK system in a 2-test home kit
Fast. Effi cient. Accurate.
A quarterly HbA1c measurement, a 2- to 3-month average of a
person's blood glucose control, is a clear indicator of how well a
person with diabetes is keeping their diabetes under control. Some
people with diabetes may fi nd that carrying out HbA1c tests with
the A1cNow Self Check between routine tests may help to improve
their diabetes control. Your GP/hospital team will still need to
perform these tests for their records. If you use the A1cNow Self
Check test, you should seek support from your healthcare team -
your GP, diabetes specialist nurse or your pharmacist - for advice
on your results and any actions to take.
The A1CNow® SELF CHECK system is a fast,
easy, accurate and affordable way to measure
your HbA1c from the comfort of your own
home.
Available online at www.bhr.co.uk or through
your local pharmacist.
With just a
simple fi ngerstick,
your HbA1c results
is provided in only
5 minutes from a
handheld device.